Navalny completes civil detention to face new charges of violating law on rallies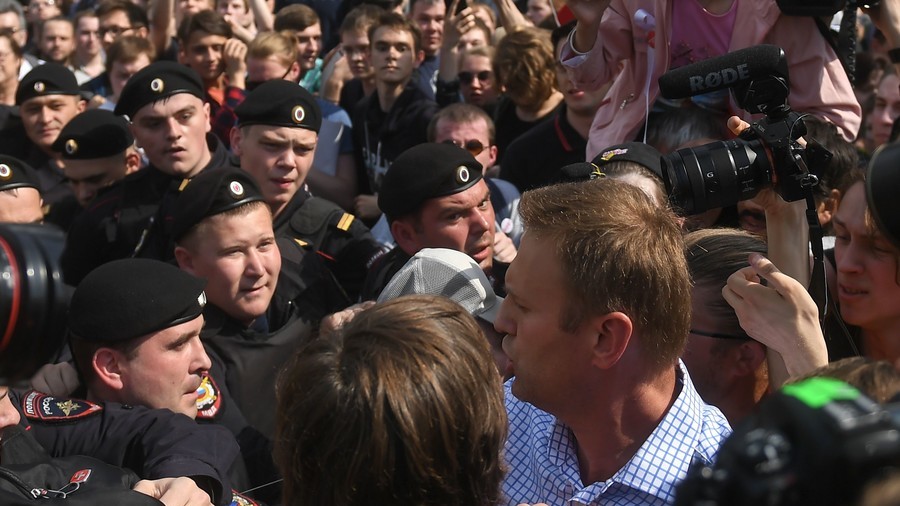 Russian anti-corruption activist Alexei Navalny was detained immediately after serving his 30 days of civil arrest and faces a new 20-day detention over violations of street protest rules with damages to human health or property.
The press service of the Main Police Directorate for Moscow City reported on Monday that Navalny was detained again and explained the reasons behind it. "Navalny has been detained today and taken to a local police station. A civil case has been instigated against him on charges of violating the rules of organizing or holding a rally, march or picket, article 20.2 part 4 of the Civil Code," reads the release quoted by Interfax. The press service added that all case materials would be forwarded to court, but did not disclose any deadlines or time schedules.
The Civil Code article mentioned by the police describes violations of the law on rallies by organizers of events that caused damage to someone's health or property. If Navalny is found guilty he can be punished with either a fine between 100,000 and 300,000 roubles ($1,515 – $4,545) or up to 20 days in civil detention.
Navalny's freshly served sentence of 30 days of civil arrest was handed to him in late August over a similar, but different violation: The repeated violation of the law on rallies by organizers of events. The actual offense took place in January this year but the sentence was delayed due to technical reasons.
The new case against Navalny most likely concerns the protests that took place on September 9 this year – the national single voting day on which public protests are not allowed. Some time before this day Navalny and his allies were reminded about the ban and warned about consequences, but apparently preferred to ignore the warnings. Dozens of protesters were detained across the country, but most of them were released with warnings.
If you like this story, share it with a friend!
You can share this story on social media: