Russian elections: Pro-Kremlin domination amid protests, but some hope for opposition in regions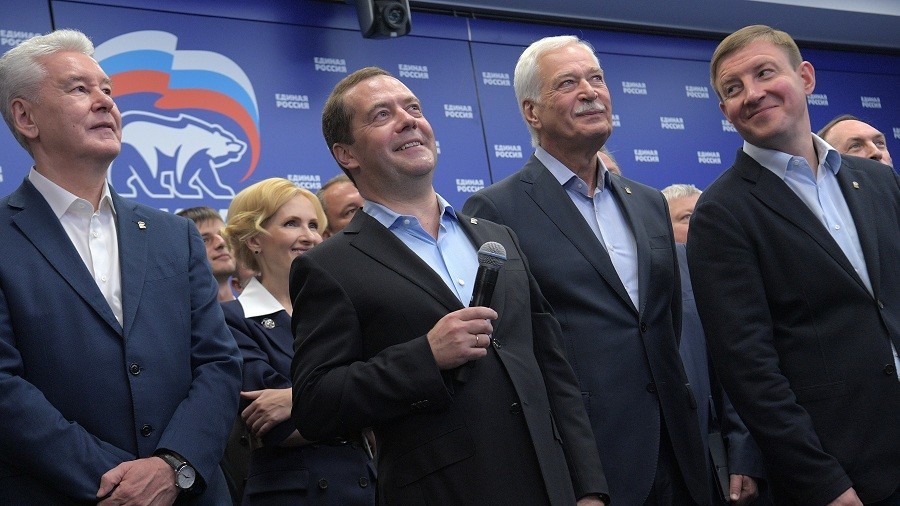 Illegal protest marches, a parliamentary opposition leader punching an agitator in the face and a few unexpected results. These were the standouts from Sunday's regional elections in Russia.
The Far East delivered the first shocks. In Yakutsk's mayoral contest, Sardana Avksentyeva, of the Party for the Renaissance of Russia, beat Aleksandr Savinov, of the pro-Putin United Russia. And in the district's capital, Khabarovsk, the race for provincial governor will go to a runoff after the Kremlin's man Vyacheslav Shport shared around 35% of the vote with Sergey Furgal of the nationalist Liberal Democratic Party of Russia (LDPR).
According to initial figures, there are also likely to be second rounds in Vladimir (close to Moscow), Khakassia (in Siberia) and Primorye (also in the Far East).
Meanwhile, for the first time since 2007, United Russia was defeated by the Communists in three regional parliament tussles: Khakassia and its Siberian "neighbour" Irkutsk plus Vladimir Lenin's homeplace, Ulyanovsk, in the central Volga federal district.
Furgal's party leader, Vladimir Zhirinovsky, managed to make headlines for striking a man in the face on Moscow's Pushkin Square. The alleged victim, a 38-year-old Ukrainian, has pressed charges.
The populist firebrand lashed out close to anti-pension reform marches organised by protest leader and anti-corruption campaigner Aleksey Navalny. Some of the illegal rallies saw violent clashes between police and demonstrators, many of whom appeared to be minors. In total, OVD-info (a monitoring group previously backed by George Soros and the US government) claimed more than 1,000 people were detained by security services, with over 450 of them in Saint Petersburg.
Kremlin spokesman, Dmitry Peskov, defended the authorities actions on Monday. "The police act strictly in accordance with the law. These were unauthorized actions," he said. "Hooligans and provocateurs attacked law enforcers, which is unacceptable and also punishable by law."
One man also far from pension age is Dmitry Artyukhov, who has become Russia's youngest governor at the tender age of 30. He will lead resource-rich Yamalo-Nenets, an autonomous "okrug" (zone) which is home to Europe's largest gas fields.
Overall, Central Election Commission chief Ella Pamfilova judged the contests to be fair. But turnout was low. Especially in Moscow, at only around 31%, where incumbent mayor Sergey Sobyanin romped home with 70% support against a weak field of opponents.
READ MORE: Putin press secretary backs police action against 'provocative hooligans'
Some analysts believe the lack of enthusiasm might be blowback from the unpopular pension proposals. However, others posit that, given the scale of the changes (a five-year increase in eligibility for both sexes), the backlash against the Kremlin is manageable and doesn't amount to a severe threat to Putin's dominance of Russian politics.
Think your friends would be interested? Share this story!