Putin press secretary backs police action against 'provocative hooligans'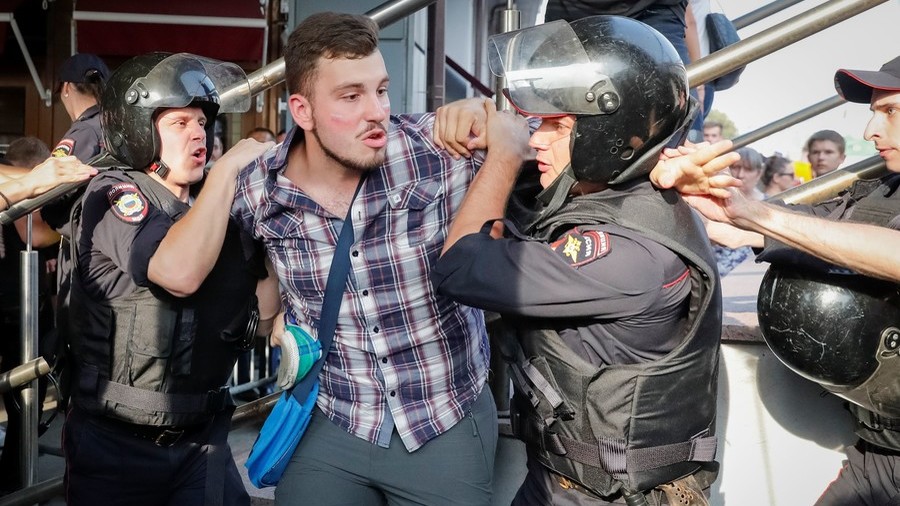 Russia's presidential press secretary Dmitry Peskov says police detentions during Sunday's protests were perfectly legal and denounced the provocative actions of opposition leaders who attracted underage citizens to their events.
"You know that police act in strict accordance with the law," Peskov told reporters, referring to the rallies in Moscow. "You know that we are talking about events that never received the necessary approval from the authorities. And you know that yet again they provoked minors into participating in such unsanctioned events and those who provoked the minors are very well aware of the legal consequences of such actions.
"There were hooligans there and also provocateurs who used violence against law enforcement officers, which is inadmissible and punished in accordance with the law," the Kremlin spokesman added.
Any public event in Russia, including protest rallies, needs to be sanctioned by municipal authorities to ensure security and lack of major inconveniences to other citizens. However, it was technically impossible for Moscow City Hall to grant the license for protests on the past Sunday as it was a nationwide election day and protests on such days are not allowed.
The Russian Interior Ministry has estimated the overall number of participants in the illegal protests over plans to raise the retirement age in Russia at about 2,000. Key organizers of the event were briefly detained and now face charges of instigating illegal protests – such offences carry punishments ranging from fines all the way up up to 30 days of civil arrest.
In addition, police detained two protesters who offered active resistance as authorities were dissolving the protest. These individuals face a criminal probe on charges of using violence against police and can spend up to five years in prison if convicted.
Protests against the planned increase of the retirement age also took place in other major cities across Russia. According to media reports, the illegal rally in St Petersburg yielded the largest number of the detained – about 100.
The Moscow city minister in charge of regional security, Vladimir Chernikov, described the Sunday protests as a pre-planned provocation that had failed, but added that the turmoil in downtown Moscow "slightly spoiled the moods" of the people who came to participate in the well-organized polls.
Like this story? Share it with a friend!