Putin pledges help to unrecognized Donbass republics, warns Ukraine against attack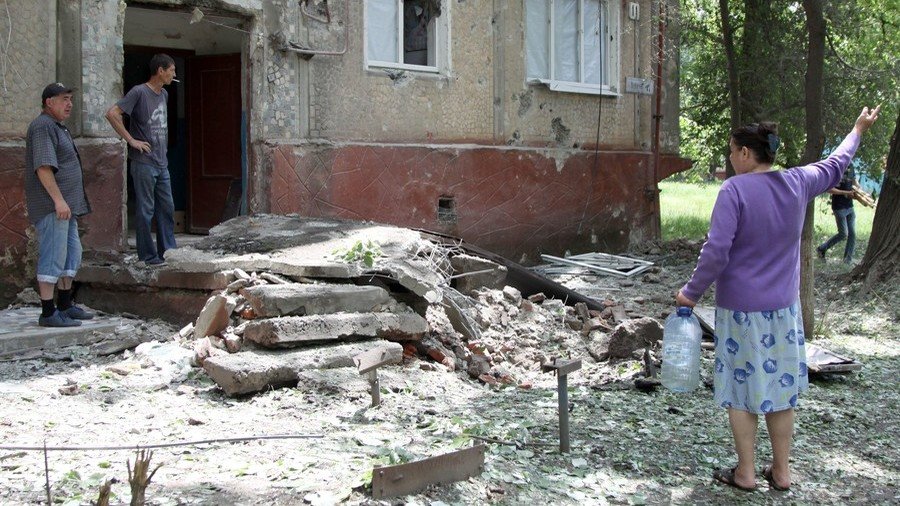 Vladimir Putin has said that any aggravation of the military conflict in Ukraine would "inflict a tremendous damage" to the country's statehood and added that Russian support for the Donbass republics will continue.
During the Thursday televised Q&A session Putin faced a question from Russian journalist and writer Zakhar Prilepin, who is currently a voluntary advisor to the head of the Donetsk People's Republic, the DNR.
Prilepin asked the president if he considered it possible that pro-Kiev forces would launch a major offensive operation in the war-ridden south-east of Ukraine during the 2018 World Cup in Russia which begins in one week.
Putin said that he personally hoped that such thing would not happen and noted that such a development would "inflict a tremendous damage to the Ukrainian statehood" adding that he personally believed that it was impossible to intimidate the people from the self-proclaimed republics of Donetsk and Lugansk.
"It is impossible to intimidate the Donbass people. We see how they endure all these hardships, we send them help and we will continue doing this," Putin stated.
Putin also asked a rhetorical question - how was it possible that Kiev authorities attempt to solve the problems of Donbass and consider this region Ukrainian territory while at the same time destroying the republics' economies with blockades and openly robbing their residents. The Russian leader added that Ukrainian officials kept their personal fortunes in offshore bank accounts.
Earlier this week the head of the self-proclaimed Donetsk People's Republic, Aleksandr Zakharchenko, said that he personally participated in reconnaissance missions on the frontline and got an impression that the Ukrainian side was preparing for a major offensive. "This is connected with the football World Cup, Ukraine will attempt to use this event. There is such a threat I would not conceal this fact. Ukraine cannot wage a full-pledged war, but they can launch several major armed provocations in three parts of the frontline maximum," he said.
A few days ago, Putin said in an interview with Austrian television that, in order to stop internal conflict in Ukraine, Kiev authorities could grant special status with broader powers to the republics of Donbass, just as Russia had done with Chechnya.
"Russia had to make a very complicated decision and grant the Chechen Republic and many other federation subjects such status that gave them a great degree of independence within the Russian Federation … the same thing could be done in Ukraine in regards of the Donbass republics and I wonder, why have not they done it yet?
"Under such scenario there is no necessity to restrict the usage of ethnic minorities' languages in Ukraine, I mean not only Russian but also Romanian, Hungarian and Polish. There is little talk about it in Europe but these are the today's realities," the Russian president said.
In September 2017, Putin called for a UN peacekeeping mission to be sent to the war-torn eastern regions of Ukraine. The mission would have been deployed to the line of demarcation to protect the OSCE mission, which monitors the ceasefire.
Moscow's initiative was welcomed by German Foreign Minister Sigmar Gabriel and Chancellor Angela Merkel, but the US and Ukrainian delegations refused to discuss it at the UN Security Council, bringing about a stalemate.
Think your friends would be interested? Share this story!
You can share this story on social media: