US sanctions designed to impede development of successful nations, says Russian Duma chief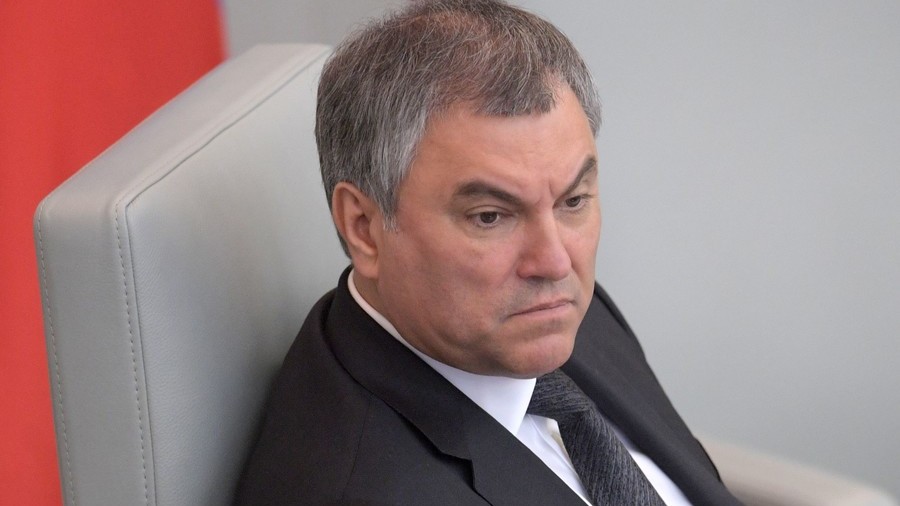 The main purpose of United States sanctions is to slow the progress of rapidly developing nations, Russian State Duma speaker has said before the parliament gave its first nod to bills on Russia's response to the restrictions.
"The USA is conducting its sanctions policy against the countries that are actively developing. This includes not only Russia, but also China, Iran and other countries," Vyacheslav Volodin was quoted as saying by TASS on Tuesday. He added that every nation that faces US sanctions is taking its own measures to counter Washington's unfriendly policies and expressed hope that the Russian bills, on counter- sanctions and responsibility for compliance with foreign restrictive regulations on Russian territory, would be effective.
Volodin also said that Russian authorities had not expected the current level of political and economic pressure as Russia had always expressed its opinions with maximum correctness based on mutual respect and non-interference with internal affairs of other countries.
"The US sanctions are of absolutely unfriendly type. They affected over 400 Russian companies and about 200 citizens of our country. We will do everything to protect our country's interests and guarantee the security, rights and freedoms of our citizens. The bills have been created to solve these tasks," he said.
"[In these bills] we are granting broad powers to our president and government to protect our country, our economy and workplaces."
Later on Tuesday the State Duma passed in the first reading the bill on the response to the latest sanctions introduced by the US and their allies in April and also the bill on criminal responsibility for imposing the West's restrictive regulations.
The first draft stops all cooperation with the US in the nuclear, missile and aircraft-building spheres. It also introduces restrictions on various US imports and allows Russian companies to produce various goods copyrighted in the US or in countries allied with the US – without getting licenses from copyright holders.
The second bill introduces large fines, penal labor and prison sentences of up to four years for anyone complicit in conducting the work of foreign states or organizations in imposing restrictive measures on Russia or its citizens.
The two documents have had to be drafted separately because, under parliamentary regulations, lawmakers cannot unite bills containing amendments to civil and criminal codes.