Bill allowing jail terms for anyone facilitating foreign sanctions drafted in Russian parliament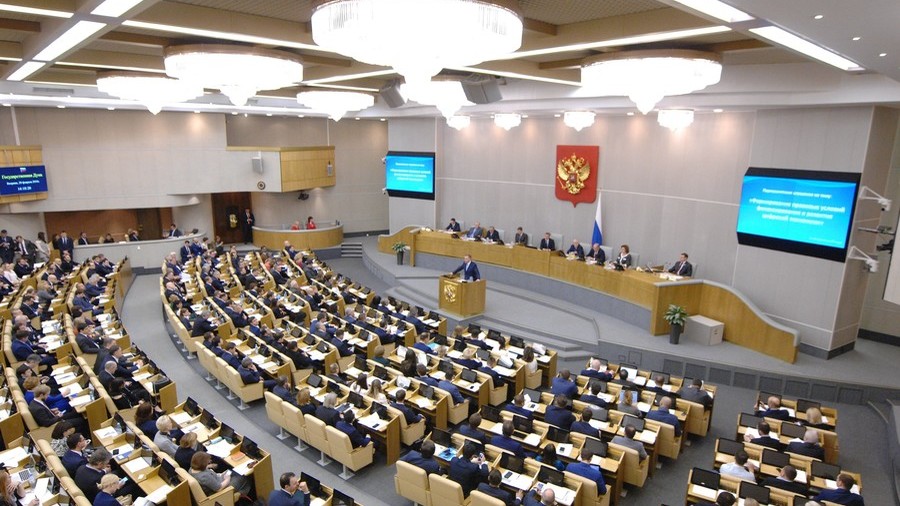 Russian MPs have drafted a bill which means any action or inaction that helps to implement anti-Russian sanctions from foreign states should carry criminal responsibility with punishments of up to four years in prison.
The joint document has been prepared by representatives of all four parliamentary caucuses headed by Upper House Speaker Valentina Matviyenko and Lower House Speaker Vyacheslav Volodin.
The bill states that any move which fulfills the decision of a foreign state, a bloc of foreign states or an international organization to impose restrictive measures on Russia or its citizens should be punished if it leads to the restriction or cancellation of business deals between Russian citizens or companies. The proposed punishment ranges from a fine of up to 600,000 rubles (about US$9,680) to four years of penal labor or the same time behind bars.
The same bill also introduces fines up to 500,000 rubles ($8,065) or up to three years in custody for any premeditated action that leads to foreign countries or organizations imposing sanctions on Russian private and public companies.
Russian lawmakers had previously explained that the new rules could target banks, retail chains or mobile service operators that work on the territory of the Russian Federation but refuse to work in Crimea.
The idea of the bill targeting those who comply with foreign sanctions while acting inside Russian territory was proposed in mid-April by State Duma Speaker Volodin. Back then one of the motion's sponsors, deputy head of the parliamentary majority party United Russia, Andrey Isayev, told reporters that the proposal would be drafted, considered and most likely passed by the parliament before July 29, in the course of the current spring session.
Later this week the State Duma is scheduled to hold a first hearing into another bill on countering the latest round of foreign anti-Russian sanctions. The draft, in its current form, stops all cooperation with the United States in the nuclear, missile and aircraft-building spheres. It also introduces restrictions on various American imports. Another provision included in the current version of the draft is a proposal to allow Russian companies to produce various goods copyrighted in the United States or in countries allied with the US – without getting licenses from copyright holders.
The two documents have had to be drafted separately as, under Russian parliamentary regulations lawmakers, cannot unite bills containing amendments to civil and criminal codes.