Ukrainian soldiers physically threatened Russian diplomat inside UN HQ – Moscow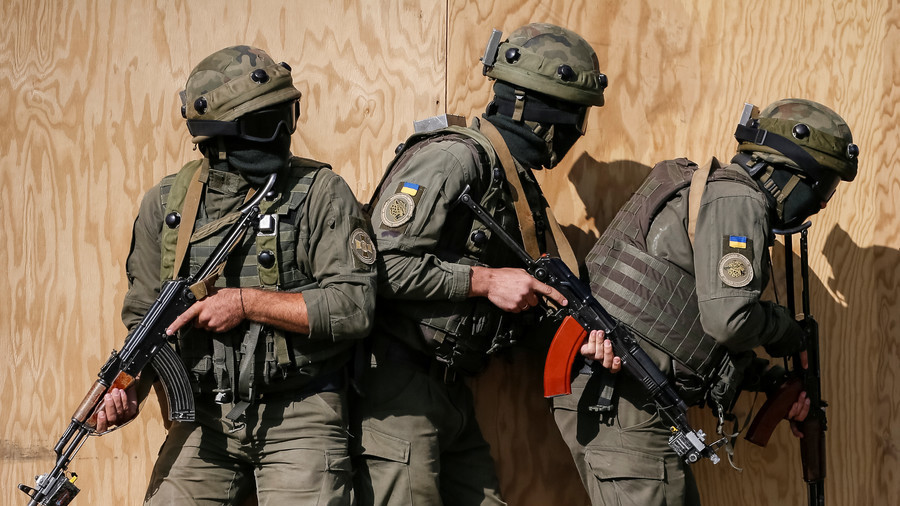 Ukrainian military servicemen, including "snipers" clad in camouflage, sought to browbeat a Russian diplomat after he quashed Kiev's narrative during a meeting at the UN headquarters, the Russian Foreign Ministry said.
The incident took place at a Ukraine-sponsored event dedicated to the issue of fake news and propaganda. The meeting on May 9, Kiev claimed, was held under the auspices of the UN Committee on Information, which is a subsidiary body of the General Assembly.
The session was attended by Russian diplomat Maksim Buyakevich, who fired back against numerous allegations thrown at Moscow by Ukrainian delegates, Russian Foreign Ministry spokesperson Maria Zakharova said. While diplomatic squabbles are nothing new within the UN's walls, with the Security Council meetings and the US envoy's dramatic walkouts, Zakharova said this time it took things to a whole new level.
Shortly after the meeting wrapped up, Buyakevich was approached by several uniformed men who had been present at the event and were introduced by the Ukrainian side as veterans of the so-called 'anti-terrorist operation' in the country's east and "snipers from southeastern Ukraine." The men, according to the Russian spokesperson, began to take photos of Buyakevich, hurl slurs at him and ended up threatening to physically assault the Russian delegate.
"Camouflaged people were scurrying about the UN, shouting, taking photos of Russian diplomats and making threats. We are talking about direct threats," Zakharova said.
Moreover, when Zakharova addressed the chairman of the UN Committee on Information, Jan Kickert, about the inadmissibility of such behavior on Friday, it turned out that the Ukraine-sponsored event was never authorized.
"The committee did not give any permit, nor did it agree to such an event to take place, which means that by presenting the meeting as part of the Committee on Information's work and dedicating it to fakes and propaganda, the Ukrainian delegation was making these very fakes," Zakharova said.
This did not stop the Ukrainian officials from taking the floor and defending the meeting as an event of an utmost importance, Zakharova said. She added that such insistence prompted Kickert to "repeat about five times" that the committee did not have any role in organizing the Kiev-dominated discussion.
The spokeswoman said that the UN Secretariat, as well as the committee, assured Moscow that they would pay more attention to the events that are attributed to the UN from now on, as she called the threats by the Ukrainian para-military delegates "an absolutely unacceptable behavior within the UN walls."
"What the Ukrainian mission to the UN did was the continuation of Kiev's policy of intimidating Russian foreign ministry officials," she told TASS.