Russian pilot Yaroshenko suspects poisoning by US prison staff, fears for his life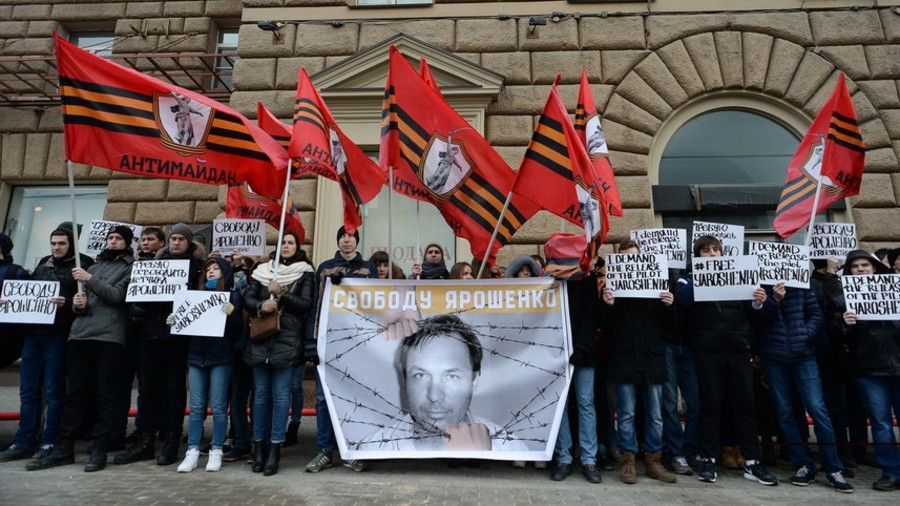 Russian pilot Konstantin Yaroshenko, who is serving a 20-year sentence in the US, reportedly said he was put in a disciplinary cell for 30 days despite serious health problems that could be due to deliberate poisoning.
Yaroshenko's wife Viktoria told Izvestia daily that she talked to her husband by phone a few days back. She said that he feared he would not be able to endure 30 days in a disciplinary cell, because his health was deteriorating rapidly.
"His voice was tired and lost. His sickness is progressing. Konstantin spoke as if he was parting with us, he said he was tired of the torments and that 30 days in the disciplinary cell would kill him, said he would not walk out of it alive," she told reporters.
Viktoria also said that neither she nor Konstantin could understand the reasons behind the punishment, as he had always been very cautious and never got into fights with other inmates.
However, she said that the disciplinary cell could be a form of revenge by Fort Dix administration for a recent interview with Izvestia in which Yaroshenko said he feared that he would be set up in order to justify the US' refusal to hand over the Russian citizen to his homeland.
Yaroshenko's lawyer, Aleksey Tarasov, supports this theory. "A few years back, Yaroshenko was placed in a special prison block after he had communicated with Russian mass media. I would not be surprised if it was the same reason that led to the new isolation," he said.
Former commercial aircraft pilot Konstantin Yaroshenko is currently serving a 20-year sentence, which was handed down in 2011 for allegedly participating in a plan to smuggle drugs into the US. All charges against him were based on the testimony of US Drug Enforcement Agency (DEA) agents, who had launched a sting operation against him. The Russian was first arrested in Liberia and then flown to the US without official extradition procedures and in violation of the diplomatic code.
Yaroshenko insists that he is completely innocent and that the whole process was part of a scheme by US agents to extract evidence against another Russian citizen, Viktor Bout.
Bout was the owner of a transport company and had also been extradited to the US and sentenced to a lengthy prison term after a DEA sting operation.
Russian diplomats have repeatedly requested that the US authorities hand over the Russian citizen, but these requests are always denied. Russian Human Rights ombudsman Tatyana Moskalkova has personally addressed US President Donald Trump, asking him to pardon the Russian citizen, but her petition was also rejected.
You can share this story on social media: