Twitter erupts after Senator McCain 'disinvites' Trump to his funeral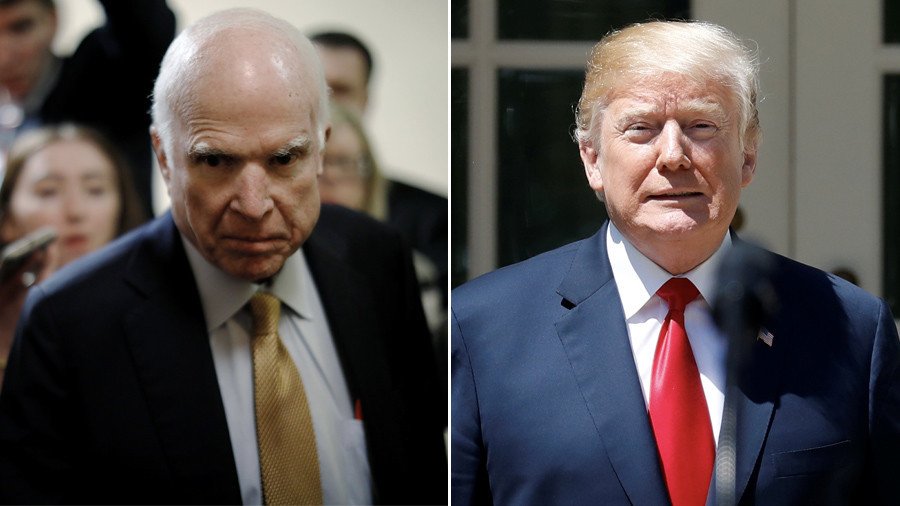 Social media has been flooded with comments after Republican Senator John McCain demanded that US President Donald Trump be kept away from his funeral.
McCain, 81, who has been battling a brain tumor since his diagnosis July of 2017, shared some thoughts and, it appears, funeral plans over the weekend. Everything has been thought of, including the list of unwelcome guests. According to those close to McCain that list includes just one person: Trump.
Struck by the unusualness of this statement, some on Twitter suggested it would probably make little to no difference if Trump attended the funeral, as long as McCain attended himself, insisting that death couldn't be used as an excuse to sanctify McCain.
The pair have a less-than-friendly relationship after Trump's sarcastic remarks about McCain's Vietnam past and the dispute over Obamacare. Yet some Twitter users mocked Trump for being the only one on the list of "undesired" guests.
While former Presidents Barack Obama and George W. Bush are expected to make eulogies at any potential funeral for McCain, some Twitter users predicted that Trump would retaliate by disinviting McCain to his own funeral before killing himself to bring about those circumstances sooner than would otherwise be expected.
Others pitied Trump for being so unpopular, as they remarked on the lack of a formal invitation from Prince Harry to his upcoming wedding and the fact that his snub from a possible McCain funeral was without precedent. "Anyone ever hear of a POTUS being unwelcome anywhere?" one woman asked.
However, McCain's decision to disinvite Trump had also prompted some to point out that not everyone at the White House will be sorry about Trump's absence, pointing out the enjoyable time First Lady Melania Trump and former President Barack Obama had at Barbara Bush's send-off.
Sitting next to Obama, Melania was caught having a warm exchange that was widely discussed on social media. Smiling at each other, Obama and Melania created an impression of cracking jokes at a date, rather than grieving at a funeral.
It explains why some Twitter users couldn't help expressing hope that Melania might looking forward to yet another funeral date with Barack Obama.
You can share this story on social media: