Trump rejects human rights ombudsman's request to pardon Russian pilot Yaroshenko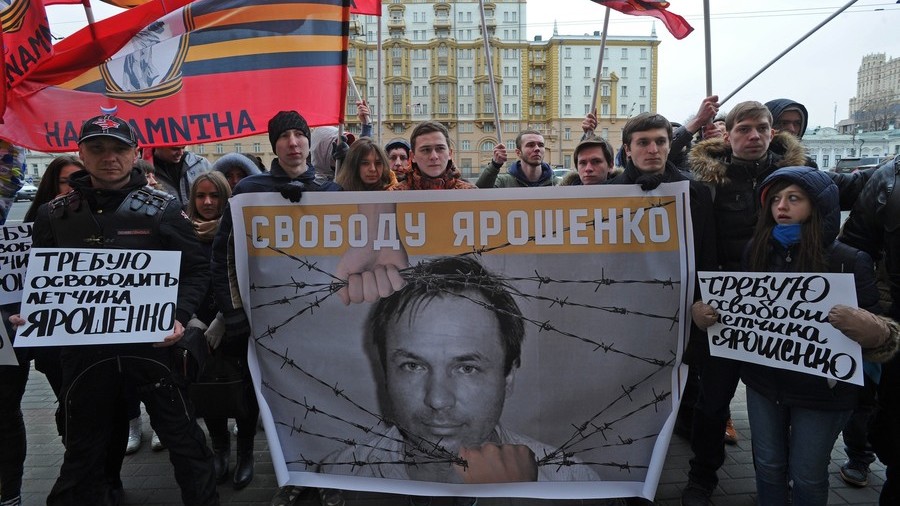 Russia's top human rights official has reported that the US president has officially refused to pardon Russian pilot Konstantin Yaroshenko, who was jailed for 20 years as a result of a sting operation by US special services.
Tatyana Moskalkova told RIA Novosti that Donald Trump wrote in response to her request that he had not found sufficient grounds to justify a pardon. She noted that she had to address the US leader directly because the US did not have a human rights ombudsman or an equivalent official.
The Russian ombudsman also said the US authorities had informed her that they had checked the conditions in which the Russian pilot is currently being kept, and found that they are were line with US standards. Last week, the Russian embassy in Washington released a statement expressing concern over reports that Konstantin Yaroshenko was being "tormented" in the prison where he is serving his term. It was alleged that he was being denied the right to exercise, and was banned from buying necessary foodstuffs and medication.
Diplomats demanded that the US authorities stop violating the rights of the Russian citizen, and bring the conditions of his imprisonment in line with internationally accepted standards.
Last weekend, reports about the poor prison conditions were confirmed by Yaroshenko's wife Viktoria, who told TASS that she had a telephone conversation with her husband during which he complained of numerous unfounded checks and searches conducted by prison administration. The ex-pilot also shared his fears that the prison authorities could plant illegal drugs on him, resulting in a trial that could end with a life sentence.
Yaroshenko's lawyer Aleksey Tarasov also told TASS that his client was experiencing discriminatory treatment by prison authorities and added that he also feared wrongful conviction in light of the recent tensions between the US and Russia. His suspicions in this regard were based on a number of recent searches and interrogations that were conducted without any explanation or grounds.
Former commercial aircraft pilot Konstantin Yaroshenko is currently serving a 20-year sentence that he was given in 2011 for allegedly participating in a plan to smuggle drugs into the US. All charges against him were based on the testimony of US Drug Enforcement Agency (DEA) agents, who had launched a sting operation against him. The Russian was first arrested in Liberia and then flown to the US without official extradition procedure and in violation of the diplomatic code.
Yaroshenko insists that he is completely innocent and that the whole process was part of a scheme by US agents to extract evidence against another Russian citizen, Viktor Bout. Bout was the owner of a transport company who had also been extradited to the US and sentenced to a lengthy prison term after a DEA sting operation.
You can share this story on social media: