Mother of jailed pilot threatens self-immolation if US does not return him to Russia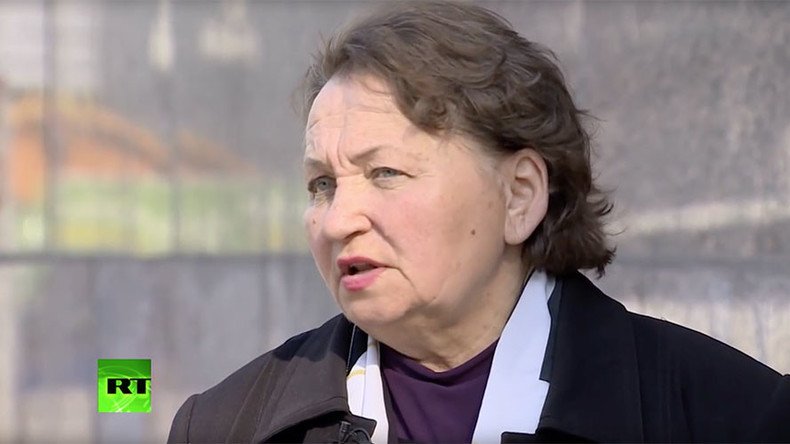 Lyubov Yaroshenko has threatened to commit suicide by self-immolation if US authorities refuse to send home her son who, according to his defense attorneys, was kidnapped, tried, and sentenced by a US court in violation of international law.
In an interview with TASS, Lyubov Yaroshenko said that she had sent two letters to US President Barack Obama and Secretary of State John Kerry asking them to show mercy and send Konstantin Yaroshenko back to Russia under the international convention on prisoner exchange. She noted that the letters were sent by email and by post, and in both cases the messages reached the intended addresses, yet she has received no replies.
Nevertheless, the woman stated that she was ready to fight for her son till the end. "I now have a medical certificate of my sanity and I have written John Kerry that I am 75 and I fear nothing. I will set myself on fire in front of the US Embassy in Moscow," she told reporters.
She added that she was seriously concerned about her son's health which was rapidly deteriorating due to poor prison conditions and inadequate medical assistance.
Commercial aircraft pilot Konstantin Yaroshenko was sentenced to 20 years in jail in the United States in 2011, for allegedly participating in a conspiracy to smuggle drugs into the country. The charges against him, however, are based on the testimony of US agents who launched a sting operation against him. He was arrested in Liberia and was flown to the US without any official extradition procedure, despite protests from Russia over alleged violations of the diplomatic code.
The pilot himself has always maintained his innocence, and insisted from the very beginning that his case was not about drug trafficking. He says his poor command of English prevented him from understanding the nature of the suggestions made to him by undercover DEA agents.
Yaroshenko's defense team has repeatedly stated that the whole scheme was organized by US special services in an attempt to extract evidence against Russian citizen Viktor Bout, owner of a transport company, who was also illegally extradited to the US and sentenced following a DEA sting operation.
The Russian citizen has repeatedly stated that the prison workers deny him medical service and keep him in conditions that threaten his deteriorating health, promising to stop as soon as he pleads guilty and testifies against Bout. He claims that his treatment is equivalent to torture.
In May, however, Yaroshenko told the press that he would no longer appeal to American courts, as he considered them biased and politicized, and did not expect justice.
You can share this story on social media: