Foreign mass media flouted Russian law & pedaled propaganda in election coverage – senators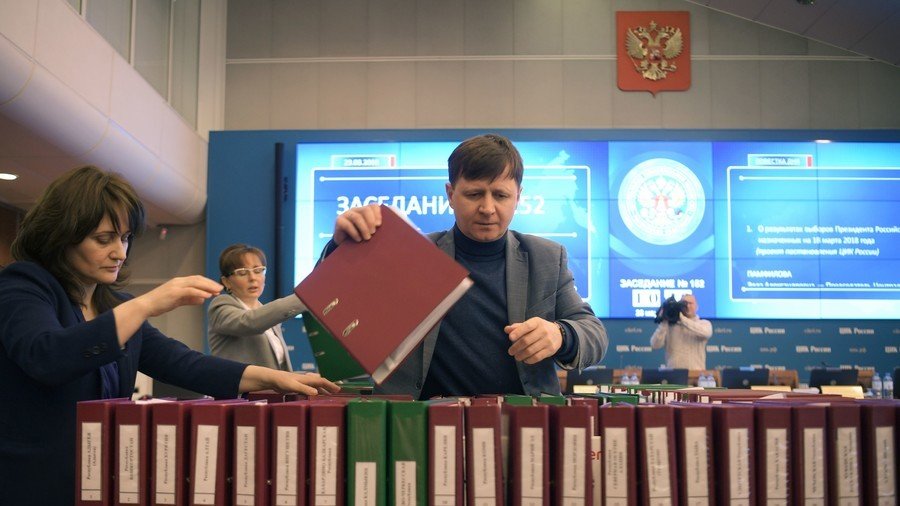 The Upper House Commission for the Protection of State Sovereignty has registered more than 1,000 incidents of the western mass media meddling in the recent Russian presidential polls.
The overall number of negative reports relating to the election was some 55 times bigger than ones with a positive outlook.
"Over the period of our monitoring we have found over 1,000 mass media reports that described elections or mentioned them indirectly, but these were not just informational reports. Foreign mass media have deliberately engaged in propaganda, in Russian and on Russian territory," head of the commission, Senator Andrey Klimov, was quoted as saying Wednesday by TASS.
Most of these reports originated from the US mass media, Klimov noted. "They [US media] published over a half of the total number of reports, and also mass media from Great Britain, France and Germany. Over the campaign period for one positive report we counted 55 reports or articles that were deeply negative."
Klimov also said that 12 Russian-language outlets belonging to western mass media directly violated Russian law when they released propaganda targeting Russian voters. "Most of them are organizations that get their funding in the United States, usually through the US State Department as they are parts of the so-called BBG [Broadcasting Board of Governors]."
Western journalists had attempted to sully President Vladimir Putin's reputation, promoted candidates that had the weakest voter support and also slandered the electoral process, according to Klimov. Foreign mass media, he said, had continued to report on the day of the election and the day before. Releasing any information about the election during that period is not permitted as there is a moratorium in place.
Klimov noted that many of the western journalists concentrated on the so called "voters' strike" which confirmed the foreign origins of this campaign, even though some Russian activists also promoted it.
The head of the commission said that western countries invested serious time and effort to promote the bypassing of official internet blocks while guaranteeing absolute anonymity to users. "They do not spare money for this. The BGG allocated $25 million in 2017 alone in order to overcome various barriers," Klimov said, noting that this system had been designed, not only for Russia, but also for China and Iran.
Western nations, he noted, have changed the agenda from giving direct instructions for voters to embarking on various PR stunts and applying pressure with regard to sanctions. "They are pushing feelings of horror and instability, releasing information that everything [in Russia] is bad, the markets are in fever and the oligarchs are fleeing the country. They are pushing these topics right now," said Klimov.
The senator insisted that the non-governmental and non-profit organizations with foreign funding also attempted to influence the Russian elections, despite the restrictions and bans imposed on these so called 'foreign agents' groups. He said that the US National Endowment for Democracy placed a lot of money into such Russian groups (96 grants were awarded in 2017 alone) and the Soros Foundation was very active in working with Russian organizations.
The commission will release a more detailed report on foreign interference in Russian elections after Putin is sworn in as president on May 7. "We have no doubts that this tremendous and massive campaign has failed. But still, we must remember that our partners refuse to calm down and continue to attack Russian sovereignty," Klimov concluded.
You can share this story on social media: