Putin gives first public indication of 2018 presidential run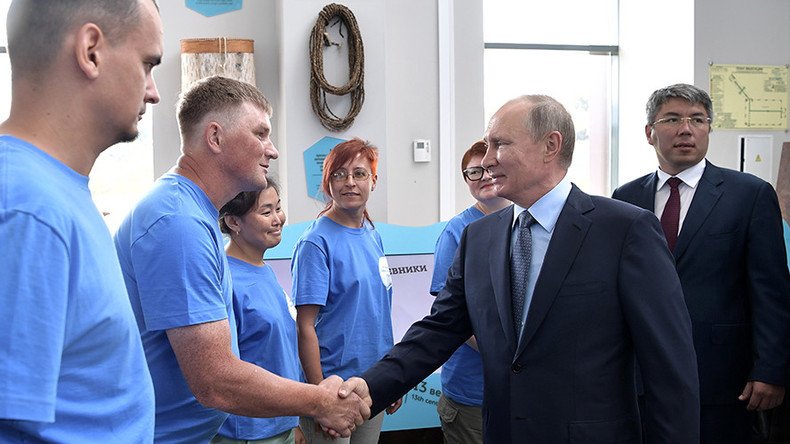 Russian President Vladimir Putin has given the first public indication that he will run for a new term in the 2018 elections, in comments made during a visit to Eastern Siberia.
Putin was answering a question from a group of villagers in the Siberian republic of Buryatia via a TV link, organized during the president's visit to the eastern regions of Russia.
"Vladimir Vladimirovich, we have a request – we all ask you to register as a candidate in the next presidential elections, we would all be very glad when it happens," they said, as quoted by TASS.
"All right, I will think about it, thank you," Putin replied.
It's not the first time Putin has faced questions about a potential next term. Previously, however, both the president and his press secretary, Dmitry Peskov, had always said that it was too early to discuss the issue.
The next Russian presidential elections are scheduled for early 2018. The exact date is yet to be announced, but according to Russian law the election must be held on the second Sunday of the month of the previous election – which in this case would be March 11.
However, in March this year the head of the upper house Committee for Constitutional Law, Senator Andrey Klishas, drafted a bill seeking to set the date of the 2018 polls as March 18, to coincide with the commemoration of Crimea's reunification with Russia. Lower house speaker Vyacheslav Volodin supported the move.
Three Russian politicians have already announced that they intend to run for the presidency – the founder of the liberal Yabloko party, Grigory Yavlinsky, the head of the nationalist LDPR, Vladimir Zhirinovsky, and anti-corruption activist Aleksey Navalny.
The latter has secured backing from a number of minor opposition parties, but is technically barred from running under Russian law because he is currently serving a five-year suspended jail sentence that will not expire before the next election.
Russia's largest opposition party – the Communists – has not yet announced its candidate, nor has the parliamentary majority United Russia party.
Public opinion polls conducted in recent months have shown that over 80 percent of Russians approve of Putin's work as president, with about two-thirds of the public stating they want him to remain president for another term.
According to research conducted by the independent Russian sociological center Levada in early July, 66 percent of Russians want Putin to remain president after the 2018 elections. Eighteen percent said that they would prefer somebody else in the position and 16 percent declined to give an unambiguous answer.
A similar poll conducted by the Levada Center in early May showed that at that time 64 percent of Russians wanted Putin to remain president, while 22 percent wanted him to be replaced.
You can share this story on social media: