Moscow warns against provocations as opposition moves 'very peaceful event' to unsanctioned location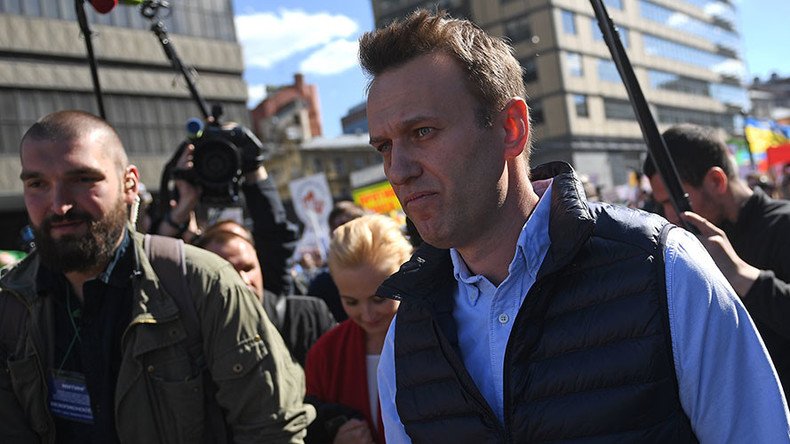 Russian opposition activist Aleksey Navalny has, on the eve of his protest event in Moscow, decided to switch the June 12 demonstration from an approved location to an unsanctioned one. City authorities called his move a deliberate provocation.
"We are cancelling the rally on [Prospekt Akademika] Sakharova and relocating our very peaceful event to Tverskaya [Street]," Navalny announced on his website.
However, Moscow's security department chief Vladimir Chernikov said neither Navalny nor his Foundation for Countering Corruption NGO had contacted authorities to officially cancel the rally, and assumed that this announcement is a "new provocation" intended to deceive people into attending an unsanctioned gathering.
"They got a prosecutor's warning that all their events outside the approved locations would be unsanctioned," Chernikov added, urging Muscovites to avoid the opposition-organized decentralized protest "promenades" in central Moscow's streets.
Moscow Prosecutor's Office, in a separate statement issued on Monday night, confirmed that it had warned Navalny against breaking the law and urging people to participate in an illegal march.
"We are warning that any attempts to hold an unsanctioned event Tverskaya Street in Moscow will be a direct violation of the law," the statement read.
"Law enforcement agencies will be compelled to take all necessary measures to prevent provocations, riots, or any actions violating public security, creating conditions threatening the lives and health of citizens."
The opposition activist claimed the rally had to be canceled due to the failure to find suitable stage and sound technicians.
"Some contractors refuse [to provide equipment] straight away, others when they learn about geolocation," Navalny claimed, adding that equipment suppliers are allegedly being "pressured" not to work with him.
Companies who have worked with Navalny before also refused to do it this time, he claimed, adding that "any money has been offered."
The "very peaceful" event would be moved to downtown Moscow's Tverskaya Street, he said, telling people to bring Russian flags and also paint the colors of the flag on their faces.
"This street [Tverskaya] is perfect for our cause. The traffic there is blocked for public festivities. And we have exactly them: A peaceful action under Russian flags on the Russia Day."
The demonstration against the Moscow renovation program is set to go ahead at 1:30-2:00pm local time (10:30-11:00am GMT) along Sakharova Street in the Russian capital, according to the organizers' statement on Facebook.
On June 12, Russia celebrates Russia Day – the national holiday dedicated to the 1990 declaration of sovereignty. Millions of people are expected to attend celebrations with over 200 public events scheduled to take place in Moscow alone. Some 10,000 police officers and National Guard servicemen will be deployed to ensure law and order in the capital.
The Tverskaya Street venue has been reserved by city authorities for the 'Times and Epochs' historical festival, which brings together in one venue the best performances, reenactments and expositions that have been performed and displayed across Moscow since June 1. Some 6,000 reenactors have already immersed numerous citizens and tourists in history, and is expected to attract hundreds of thousands during the grand finale on June 12.
The opposition scheduled their rallies in dozens of cities across Russia on the very same day, spending weeks arguing with local authorities over their locations.
In St. Petersburg, where the second-biggest rally was due to take place, organizers also rejected the proposed venue, and without directly calling on people to break the law and attend the unsanctioned rally, instead urged them to "gather together" at a public event at the Marsovo Pole park.
"Do not be afraid of anything. The law, justice, truth and common sense are on our side," Navalny told his supporters, despite previous incidents and numerous warnings that unauthorized gatherings are a direct contravention of public protest laws.
The previous wave of protests, organized by Navalny and his NGO on March 26 in Moscow and several other Russian cities, ended with dozens of detentions and short-term administrative arrests for violation of public order. At the time the opposition organizers also refused to accept the venues offered by authorities and staged gatherings at other locations.
Navalny is one of three candidates that have already declared their intention to run for the Russian presidency in 2018. Around two percent of respondents say they are ready to vote for him, according to an independent Levada public opinion center poll conducted last month. It is yet unclear if he'll be able to participate, as his five-year suspended sentence won't expire before the next election and, under Russian law, he cannot run for president unless his sentence is overturned.
You can share this story on social media: