Support for Putin in Russia hits new high – poll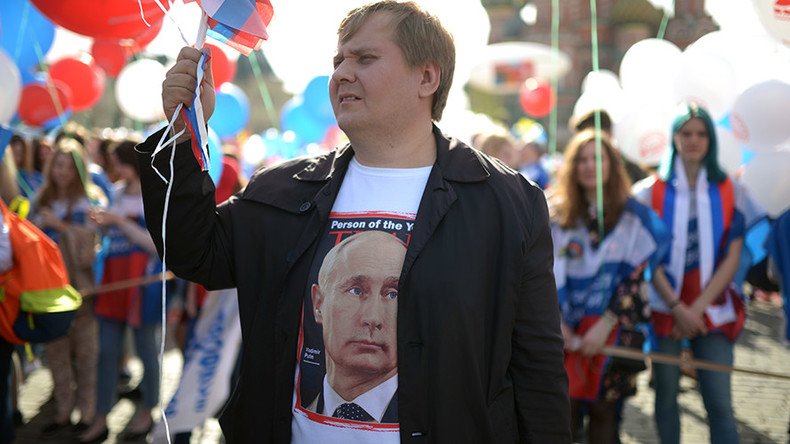 According to a new poll, 63 percent of Russians said they would vote for Vladimir Putin if the presidential election was held next weekend. Among those who said they had already made up their mind, the figure was a record 82 percent.
The poll was conducted last week by the independent Levada public opinion center, which says the 82 percent rating is the highest ever.
Six percent of those who said they had already decided who to vote for said they would vote for Liberal Democratic Party head Vladimir Zhirinovsky. Four percent said they would vote for Communist Party leader Gennady Zyuganov, while two percent back anti-corruption activist Aleksey Navalny.
Five percent of those polled said they planned on voting in the election, but had not yet made up their minds on who to vote for.
Russian President Vladimir Putin has not yet declared his intention to run in the next election, scheduled for March 18 next year. When reporters recently asked Zyuganov if he intended to run, he said he would. Navalny has also vowed to run, but Russian law forbids him to do so because in April 2018, he will still be serving a suspended sentence for graft, though he hopes that by the time of the election, the sentence will be overturned by the European Court of Human Rights.
Another politician looking to run in 2018 is Yabloko Party founder Grigory Yavlinskiy. According to the Levada poll, however, his support is now statistically insignificant.
A separate poll conducted by state-run VTSIOM in early May showed that over 81 percent of Russians positively evaluate Putin's job as president – down about four percent from January. Putin also topped the trust rating for nearly 50 percent of the respondents.
Research conducted by VTSIOM in late March showed that just under 70 percent of Russian citizens, to varying degrees, planned to vote, while only seven percent did not.
You can share this story on social media: