Putin tops latest polls by wide margin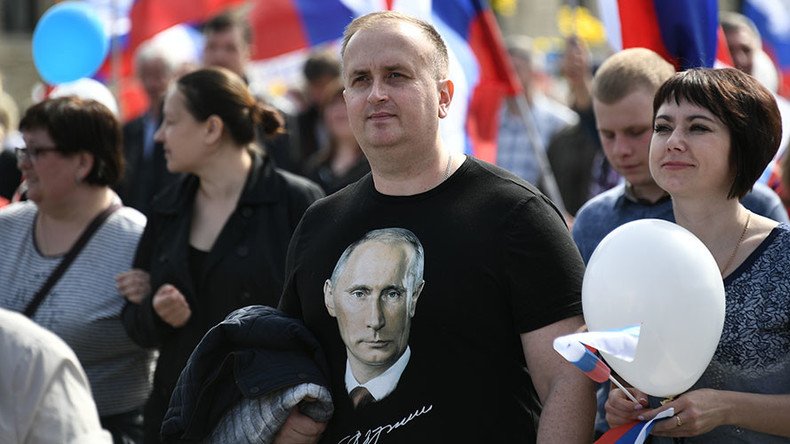 About half of the respondents who said they would vote in a presidential election if it took place next weekend said they would vote for current Russian President Vladimir Putin, with all competitors falling below the 3.5% margin of error.
According to the Levada independent public opinion research center, if a presidential election took place in Russia next Sunday, and if Vladimir Putin were one of the candidates, 48 percent would vote for him. The leading opposition candidates – Communist leader Gennadiy Zyuganov and head of the Liberal Democratic Party Vladimir Zhirinovsky – each received only three percent, with a margin of error of 3.5 percent. Defense Minister Sergey Shoigu and anti-corruption activist Aleksey Navalny came in even lower, with one percent.
The level of uncertainty among Russian voters, however, is very high: 19 percent said that they did not have any fixed preferences, while 10 percent said that they had not decided whether or not to vote yet, and 13 percent said that they did not plan to vote. The head of the Levada Center, Lev Gudkov, told Kommersant daily that this is not an unusual situation, and that the general public usually makes these decisions about two weeks before elections.
The Levada researchers said that one year ago the amount of people who said they would not take part in the next presidential election was 25 percent, and the amount of Putin's supporters among those who planned on voting was 62 percent.
In the same poll, Levada found that 64 percent of Russians want Putin to remain president for another term, and 22 percent want him to be replaced.
Research conducted by state-run VTSIOM in late March showed that just under 70 percent of Russian citizens, to varying degrees, planned to vote, while only seven percent did not.
The next Russian presidential election is scheduled for early 2018. According to law, the election must be held on the second Sunday of the month of the previous election – which in this case would be March 11, though senior senators have proposed rescheduling the election for March 18, to coincide with the anniversary of Crimea's reunification with Russia. Lower House Speaker Vyacheslav Volodin supported the move.
Vladimir Putin has not yet announced if he is going to run for office again or not. In his most recent comments on the subject, he said that the successor to the presidency can only be determined by the Russian people through a free, democratic election.
You can share this story on social media: