Russia to cut Euro council fees over ongoing spat - report
Published time: 23 May, 2017 10:38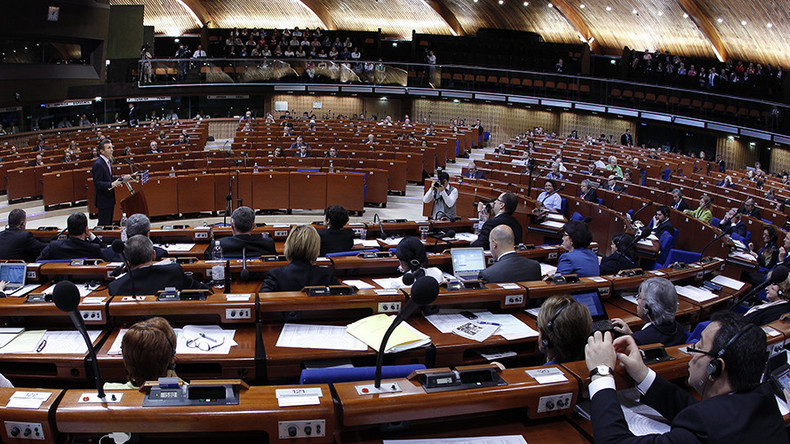 Moscow will cut its membership fees to the Council of Europe because of the ban on participation at sessions of its parliamentary council, PACE, a popular Russian daily reported, quoting diplomatic sources.
"The Council of Europe requires a single annual membership fee that is being divided between the union's various bodies. We intend to calculate the approximate sum that goes from our input to PACE and reduce our payments by this sum," the source told Izvestia newspaper.
An unnamed official from Russia's mission in the Council of Europe confirmed the intention.
"Because of the long-time non-participation of the Russian parliamentary delegation in PACE work, we deem it reasonable to raise the question of the size of Russia's contribution in the assembly's budget," the source said.
The head of the lower house Committee for International Relations, MP Leonid Slutsky also said that he considered it reasonable to cut the CE membership fee.
"Today, our CE fee is not divided, we pay for our participation in the Cabinet of Ministers, the Congress of Local and Regional Authorities of Europe, the European Court of Human Rights and PACE. But if we don't return to the latter body in the nearest future, it makes no sense for us to pay for it," Slutsky told reporters.
In 2016 Russia's overall membership fee in the Council of Europe was €32.8 million (US$37 million). Russian officials have already raised the issue of cutting the fees because of non-participation in PACE, but in early 2016 PACE President Anne Brasseur ruled out such a possibility, saying that CE fees cannot be split.
Russia parted ways with PACE in April 2014, after the assembly stripped the Russian delegation of its voting rights and banned it from participating in the group's ruling bodies or monitoring missions until the end of that year over Russia's alleged role in the political crisis in Ukraine. The sanctions were prolonged in 2015 and 2016.
Russian lawmakers responded by issuing a resolution stating that nations which have repeatedly violated international law and caused thousands of casualties have no moral right to judge Russia or impose sanctions on it. Russia's delegation members left PACE after the scandal because they considered it impossible to resume discussions while the sanctions were in force.
In addition, Russia did not invite PACE monitors to its 2016 parliamentary elections. Instead, the Russian Foreign Ministry invited representatives of four international political blocs and organizations – the Commonwealth of Independent States (CIS), the Shanghai Cooperation Organization (SCO), the Collective Security Treaty Organization (CSTO) and the OSCE's Office for Democratic Institutions and Human Rights (ODIHR).
At the same time, Russian officials have repeatedly said that a return to full-pledged cooperation with PACE is possible once the assembly stops what they describe as discriminatory policies towards the Russian delegation.