'Senseless carnival': Lawmaker blasts PACE over latest anti-Russian resolution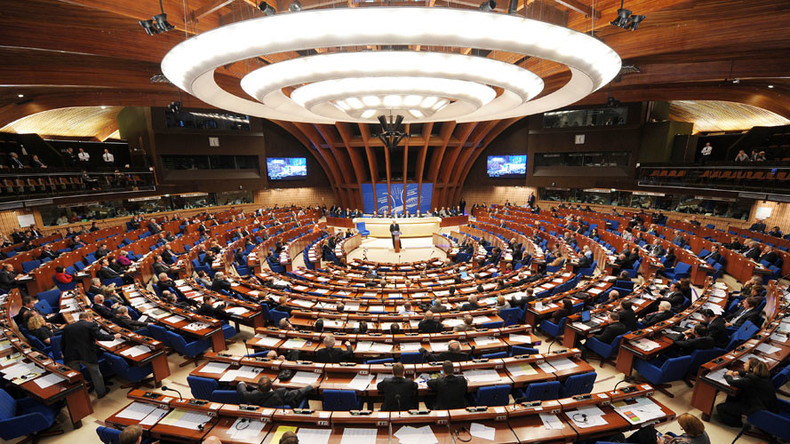 Senator Aleksey Pushkov has sharply criticized the Parliamentary Assembly of the Council of Europe for passing an anti-Russian resolution, adding that the members of this body should understand that without Russia it would remain flawed.
"A senseless carnival of Russophobia is continuing in PACE. Yet another time they have failed to learn this lesson: without Russia PACE would remain a flawed organization," Pushkov tweeted on Thursday.
The comment came after the PACE passed the 'Political consequences of the conflict in Ukraine' resolution, in which it refused to recognize the results of Russian parliamentary elections held in the republic of Crimea in mid-September and once again demanded that the 2014 accession of the Crimean Republic into the Russian Federation be reversed.
READ MORE: Monitors from major intl groups to get invitations to Russian parliamentary polls

Russia parted ways with PACE after the assembly approved its first major anti-Russian resolution in April 2014, following a major political crisis in Ukraine. Back then PACE stripped the Russian delegation of its voting rights and banned it from participating in the group's ruling bodies or monitoring missions until the end of that year. The sanctions were prolonged in 2015 and 2016.
Russian lawmakers responded by issuing a resolution stating that nations which have repeatedly violated international law and caused thousands of casualties have no moral right to judge Russia or impose sanctions on it. Russia's delegation members left PACE after the scandal because they considered it impossible to resume discussions while the sanctions were in force.
In June this year, the deputy head of Russia's PACE delegation, Leonid Slutsky, told the press that Russia won't be returning to the organization anytime soon, adding that having PACE monitors at Russia's September parliamentary elections was out of the question. Instead the Russian Foreign Ministry has invited representatives of four international political blocs and organizations – the Commonwealth of Independent States (CIS), the Shanghai Cooperation Organization (SCO), the Collective Security Treaty Organization (CSTO) and the OSCE's Office for Democratic Institutions and Human Rights (ODIHR).
READ MORE: Russia could make 'cautious' return to PACE – new head of Duma International Relations Committee

In late September, Slutsky allowed for Russia's gradual return to the PACE once the body stops its policy of "discrimination" against Moscow. He added that the Russian parliament maintained contact with all political groups of PACE and that its representatives would continue to monitor the developments in it.