'Useless and expensive' - Russian MP presses for PACE exit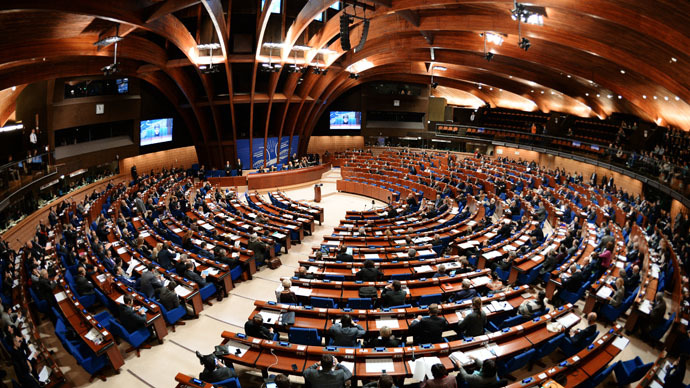 A senior lawmaker has suggested Russia quits the Parliamentary Assembly of the Council of Europe (PACE), and instead donate the multi-million annual fee paid to this organization to international groups that don't show anti-Russian bias.
"Today PACE is one of the most useless organizations and even people in Strasbourg where it is located are oblivious of its existence. I am sure that 98 percent of Europeans have never heard about it," the head of the State Duma committee for education, Vyacheslav Nikonov, told popular Russian daily Izvestia.
"It is just an assembly of lawmakers with inclinations towards rights protection who decide absolutely nothing, but who always start up their anti-Russian wailing. I cannot understand what we are still doing there," the MP added.
Nikonov said he had an impression PACE members were not interested in what was really happening in Russia, because whatever the conditions they only pass anti-Russian resolutions.
Russia parted ways with PACE in April 2014 after the body approved an anti-Russian resolution over the political crisis in Ukraine, depriving Moscow's delegation of the right to vote, and banning it from participation in ruling bodies and monitoring missions till the end of the year.
Russian lawmakers replied with a resolution stating that nations which have repeatedly violated international law and caused thousands of casualties, have no moral right to judge Russia or impose sanctions on it. After the scandal, Russian delegation members left PACE because they considered it impossible to resume discussions while sanctions were still in force.
READ MORE: Upper House moves to restore ties with European parliaments
In August 2014, State Duma Foreign Relations Chief Aleksey Pushkov said Moscow might completely give up its PACE membership if European sanctions against Russia remain. In December, State Duma Speaker Sergey Naryshkin reiterated the warning, adding that in this case Moscow would review the amount of fees it pays jointly to the Council of Europe and its Parliamentary Assembly (currently it's about €23 million a year).
This week, State Duma MP Vasily Likhachev told the press that he had prepared a bill on the optimization of Russia's cooperation with international bodies. The main purpose of the draft was to establish which international groups best matched Russian interests so funds allocated for inter-parliamentary cooperation were not wasted on the likes of PACE, Likhachev noted. The MP said the document had already been agreed with State Duma experts and will now be forwarded to the presidential administration, and the government agency that deals with cooperation with CIS nations.
You can share this story on social media: