Senate chair wants Russian laws to match 'historical & national values'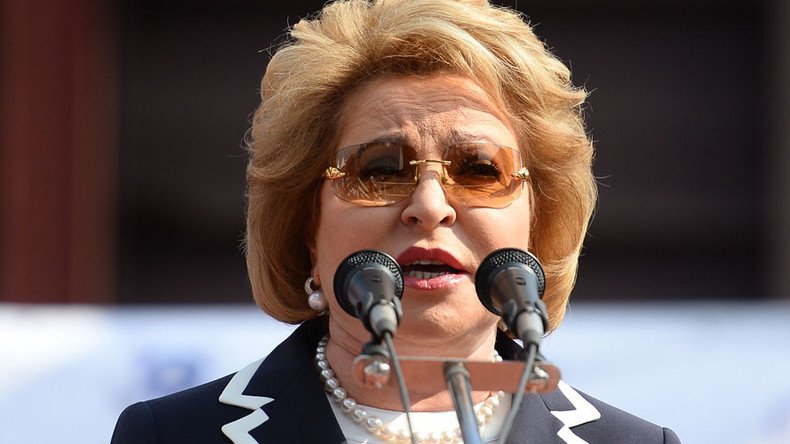 Upper House Speaker Valentina Matviyenko has said all Russian laws should be in line with traditional national values, and has called for fellow lawmakers to uncover and prevent any attempts to impose foreign and alien ideals on Russia.
"There are non-stop attempts to force our country into adopting legal stances and approaches that often conceal some values that are alien to us. Because of this I deem it important to introduce a special expertise of legal drafts that would see if they match our historical national values," Matviyenko wrote in an article published by Parlamentskaya Gazeta (Parliament Newspaper) daily.
She added that in her view any national system of laws can only be effective when it is based on a broader basis of political, economic, social, cultural and spiritual values historically formed for a particular nation.
"This is what we must remember about when we pass laws and when we apply them. We are already doing this, but only from time to time. I think that such expertise must be made an inseparable part of our work in the Federation Council," Matviyenko wrote.
The top senator also noted that since the beginning of modern Russian history in the early 1990s, the country's lawmakers have succeeded in creating a national legal system based on the same foundation principles as the laws of other developed countries.
"In all these years we have not adopted a single law that would infringe on any of the constitutional rights and freedoms and our political system ensures citizens' control over the authorities," she noted.
READ MORE: MPs suggest new restrictions for Russians with foreign citizenship
Russia started a legislative campaign aimed at the so called 'nationalization of elites' back in 2012. The move was first proposed by President Vladimir Putin and in 2013 the law was introduced to ban senior Russian officials from holding bank accounts abroad or owning foreign-issued shares and bonds. The restriction also extends to spouses and underage children. State officials are allowed to possess real estate abroad but have to declare it as well as the sources of income used to buy that property.
READ MORE: Russia may counter sanctions threat with foreign real estate ban for officials

Also in 2012, Russian lawmakers passed the so-called Foreign Agents Law obliging all NGOs who receive funding from abroad and whose work even partially deals with the political sphere to register as foreign agents or risk substantial fines. In 2014, the law was expanded with a bill making it illegal for Russian political parties to receive sponsorship from, or enter any business deals with, NGOs with "foreign agent" status.
Many rights groups in Russia and abroad protested the move, saying it would jeopardize their existence. The sponsors of the act and top Russian officials including President Putin have repeatedly emphasized that its main purpose was to provide better information for voters, and that it would eventually benefit democracy.
In June this year President Putin signed a set of amendments to the Foreign Agents Law defining the term political activity of non-governmental organizations and allowing charity groups receiving funding from abroad not to register as foreign agents.
READ MORE: Putin signs NGO bill exempting charities from Russia's 'foreign agents law'

You can share this story on social media: