Center left opposition intends to finish 2nd at forthcoming Duma polls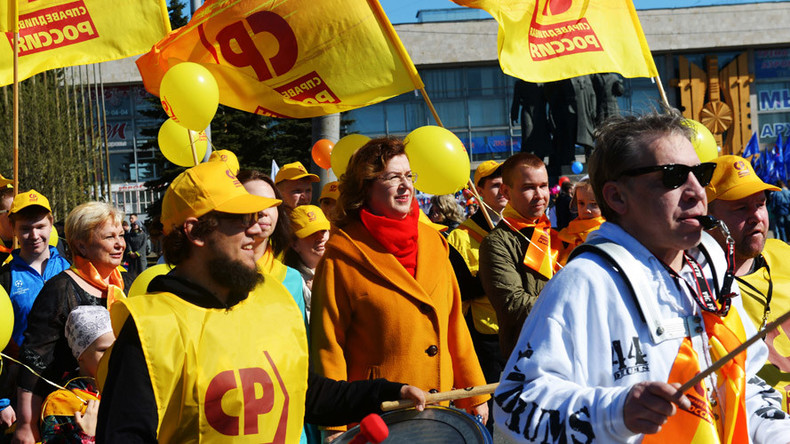 The leader of the Fair Russia party told reporters he and his comrades hope to outperform other opposition parties in September's Duma elections by attracting some incumbent lawmakers currently representing other parliamentary parties to their ranks.
"Our party is ready for cooperation with professionals who share our views. We are now considering the candidacies of some deputies who had decided for various reasons not to participate in the forthcoming parliamentary elections on the side of their own parties," Sergey Mironov said at a Thursday press conference in Moscow.
READ MORE: Leftists propose free land for poor and distinguished Russians
As a result of this plan, Fair Russia will get more votes than two other opposition parties in the parliament – the Liberal Democratic and Communist parties – and finish second after the centrist conservative majority United Russia party, Mironov forecasted.
He added that Fair Russia leaders expected similar performance from its branches in the regional and municipal polls.
"We intend to win the elections in all places and be at least second by the total number of elected lawmakers. I am sure we will succeed at this. We have undertaken sociological research. We use sociological data from other institutions and we see from it that the task that we have posed before ourselves is executable."
Fair Russia currently holds 64 of 450 seats in the State Duma. The party was founded in 2006 as a center-left project that shared the basic conservative ideas of United Russia, but also concentrated on protecting the rights of working people.
READ MORE: Fair Russia kicks off election campaign with petition to sack govt, cancel charges

In February, Mironov said in a press interview that he had no doubts that Fair Russia would win seats in the State Duma because the party had performed relatively well during the last Single Elections Day in September 2015. Fair Russia came third in those elections by number of lawmakers elected to regional legislatures, outdoing the populist-nationalist party LDPR, but staying behind centrist conservatives United Russia and the Communist Party of the Russian Federation (KPRF).
Mironov also said his party did not plan to offer parliamentary seats to any famous figures in a bid to boost its popularity.