State Duma gives 1st nod to new anti-terrorist laws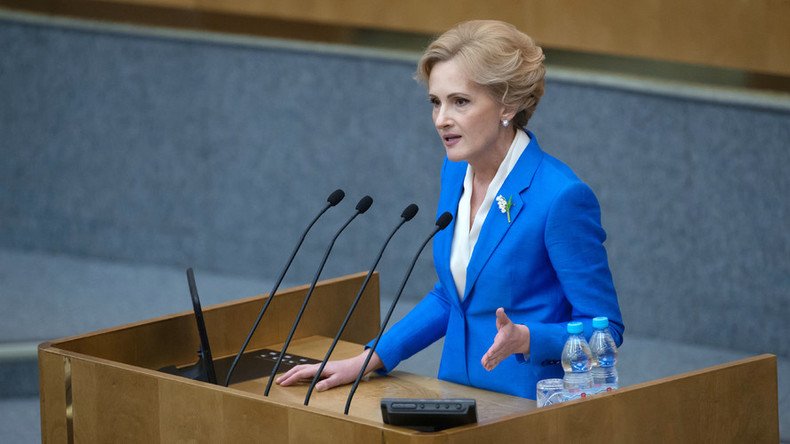 The Russian State Duma has passed in the first reading a set of amendments that tighten punishment for convicted terrorists and their accomplices, and that allow people suspected of terrorist connections to be barred from leaving the country to fight in foreign wars.
The bill was drafted in early April this year by the chair of the State Duma Committee for Security, Irina Yarovaya, who has described it as "substantial and targeted at prevention and protecting our citizens and state from terrorism."
It gained support from the parliamentary majority party United Russia and leftist opposition party Fair Russia. Communists and Liberal Democrats opposed the motion but their votes have proved to be insufficient.
One of the key provisions of the draft is that it allows limitations on the right of Russians to leave the country in cases when they have received an official warning on actions that create conditions for terror-related crimes as well as genocide and ecocide.
The document allows Russian authorities to denaturalize convicted terrorists, but only in cases when they have at least one other citizenship.
READ MORE: Ban proposed on suspected terrorists from exiting Russia
The new draft law also amends the existing anti-terrorist laws with several articles providing for longer sentences for accomplices in such crimes as hostage-taking and organizing illegal armed groups. If the bill is passed, those convicted could be sentenced to between 15 and 20 years behind bars.
The motion sets the maximum punishment for international terrorism as life in prison, and financing terrorist groups can carry up to 15 years in jail. Terms of between eight and 15 years are proposed for assistance to extremist activities that are not connected with actual terrorist attacks. Public calls for extremism or attempts to justify terrorism are punishable with fines of up to 1 million roubles (about $15,500) or by up to seven years' imprisonment.
If a Russian citizen was aware of preparations for an act of terrorism but chose not to inform law enforcers, that person could be sentenced to up to three years in prison.
The new bill also lowers the age threshold for terrorist crimes, such as actual terrorist attacks and hostage-taking, to 14 years from the current 16 years. Presently the age of minors in Russia is 16 years, with exceptions made for such crimes as murder, rape, kidnapping and some others. For these offenses, criminals can be brought to responsibility from the age of 14.
READ MORE: South Russian region drafts bill on denaturalization of terrorists
Another part of the motion orders Russian operators of communication networks to keep records of all communications conducted through their channels as well of copies of images sent through them.
This part of the bill caused strong opposition among businessmen who pointed at the tremendous costs of such actions. The Russian government has recommended that lawmakers rewrite the bill before the second reading and reduce the amount of data that should be kept, but said that the demand was correct in principle.
According to Kommersant Daily newspaper, the State Duma legislative department has also criticized the bill. The department said that setting different punishment for terrorist crimes committed inside Russia and outside its borders violated the principle of equality, and that in its current form the bill sometimes ordered harsher punishment for accomplices of terrorists than to terrorists themselves. The experts recommended that the lawmakers remove these controversies before the second reading of the motion.
You can share this story on social media: