Veteran Russian liberal vows to beat Putin in 2018 presidential race
Published time: 4 Mar, 2016 10:47
Edited time: 4 Mar, 2016 11:22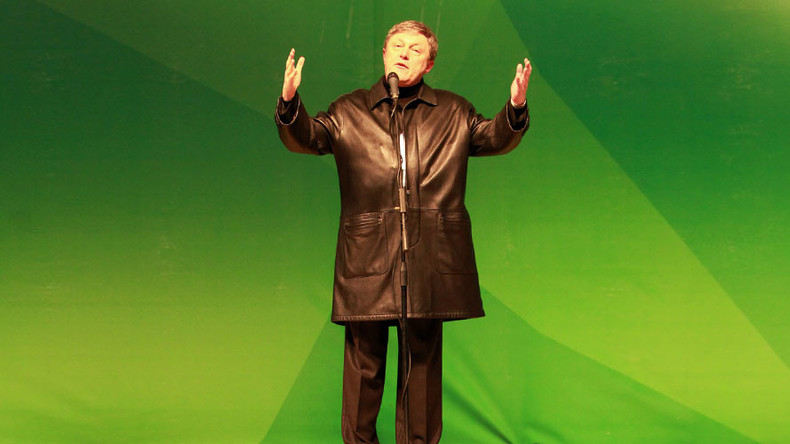 The founder of the old, but minor political party Yabloko, Grigory Yavlinsky, told reporters he expects the presidential elections to take place earlier than currently scheduled and that he hopes to win them, in spite of current popularity ratings.
In a major interview released by the Interfax on Friday, Yavlinsky said the fact that Vladimir Putin's electoral rating is now over 80 percent "plays no role," and assured journalists that his own chances for victory are real.
"I make this conclusion precisely because Vladimir Putin's rating is exceptionally high today. From my point of view, the situation in economy looks so bad that, in a year, early elections could become a reality – Putin will want to have the elections ahead of term in order not to wait for the situation to deteriorate further … So far, he has never held elections in the situation of downward trends," Yavlinsky said.
READ MORE: Veteran Russian liberal Yavlinsky announces presidential ambitions
The Yabloko (Apple) founder also rejected any possibility that the situation in the country would improve before 2018, saying that this could happen only if Russia "returned" the Crimean Republic to Ukraine and stopped supporting the self-proclaimed republics in Donbass.
When asked if these were the objectives he wanted to prioritize in his own elections program, Yavlinsky evaded a direct answer, but said that the conflict over Crimea could be resolved with the help of a major international conference with wide participation.
As for the will of Crimean residents, who almost unanimously supported the accession of the republic into the Russian Federation two years ago, Yavlinsky said in his opinion this decision had to be reconfirmed at another referendum, but the final word on the issue must belong to the international conference.
The Yabloko founder also reiterated his stance over the possible political blocs at the forthcoming parliamentary elections. He rejected any possibility of alliance with the pro-market liberals Parnas (Party of People's Freedom headed by former PM Mikhail Kasyanov), but expressed confidence that even by itself Yabloko would get at least 30 seats in the 450-member State Duma.
READ MORE: Putin's electoral rating hits 4-year high
Currently Yabloko has no parliamentary representation, but is entitled to a simplified registration procedure because it managed to get over 3 percent of votes in the previous poll.
Grigory Yavlinsky was among Yabloko's founders and headed the party for many years. He abandoned the post of party leader in 2008, but remained on Yabloko's political council and represented the party in elections. In 1996, he garnered 7.4 percent of the vote and in 2000, 5.8 percent. He also registered as a candidate in 2012, but the authorities removed him from the polls after a large share of supporters' signatures provided by his headquarters were deemed invalid.