Putin's electoral rating hits 4-year high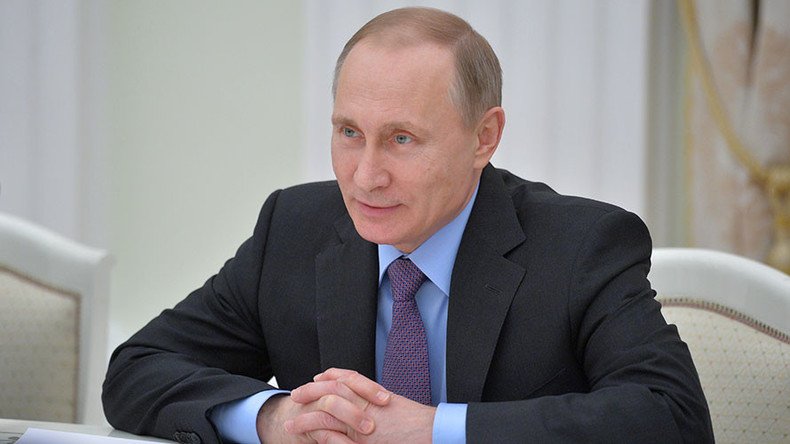 According to latest research conducted by Russian state-owned agency VTSIOM the share of Russians who express willingness to vote for Putin in the nearest presidential polls is the largest in four years.
"Seventy-four percent of Russian citizens say that they are ready to vote for Vladimir Putin at the nearest presidential elections, due in the beginning of 2018. This is the maximum value in four years and an almost two-fold increase from 40 percent in October 2012," reads the letter issued by VTSIOM on Thursday.
"Fifteen percent of responders said they had no plans to support the incumbent president and 11 percent said they cannot give an answer to this question," the researchers added.
READ MORE: Most Russians want Putin to remain president after 2018 – poll
VTSIOM also noted in the letter that the support for Putin's candidacy was very high even among those who thought that the president has not yet fulfilled all promises made at the last elections campaign. At the same time, 37 percent of responders hold that the Russian leader has already fulfilled the major part of these promises. The share of those who think that Putin was true to only a part of his promises was 47 percent.
According to the poll conducted by VTSIOM in December last year 57 percent of Russians wanted to see Putin reelected as president in 2018. A further 11 percent said the incumbent president should be replaced by someone he himself proposes as his successor. Eighteen percent said that they would prefer another person as president who would suggest a different political course, while 14 percent of responders said it was too difficult for them to answer the question at the moment.
In the same poll, 48 percent of Russians said that currently no politician in the country could effectively replace Putin, while 33 percent said that the replacement could be found once the need arises and 6 percent answered that they already know a perfect candidate. Twelve percent of respondents said they found the question too complex to answer.
READ MORE: Putin's approval rating hits new historic high of almost 90%
In late October 2015, Putin's approval rating hit a historic high of 89.9 percent, beating the previous high set in June 2015, when the average monthly rating was 89.1 percent.
In late June 2015, independent Russian pollster the Levada Center reported that according to its data, the share of Russians who are happy with Vladimir Putin's work as president had reached 89 percent. Sixty-four percent think the current policies of the Russian authorities are correct – also the highest in history. The proportion of Russians who expressed dissatisfaction with Putin's work was 10 percent.
You can share this story on social media: