Nationalist leader calls for 19th century Russian victory over Turkey to be made national holiday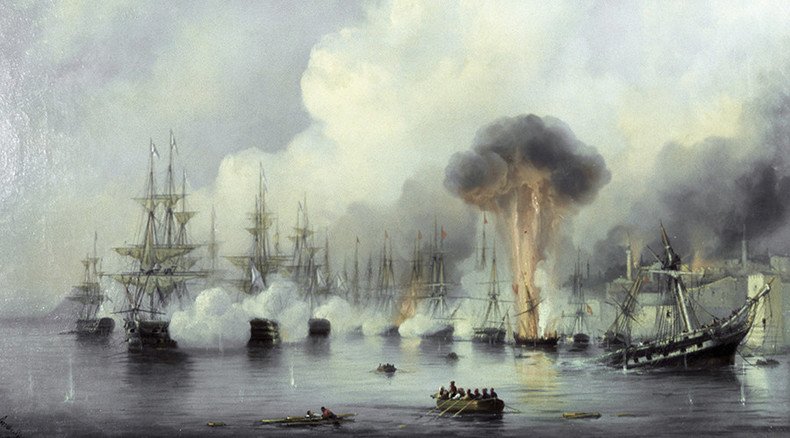 The leader of the nationalist Liberal Democrats party (LDPR) has proposed that Russia commemorate as a public holiday the anniversary of a 1853 Russian naval victory in which the Turkish navy was destroyed.
"The annihilation of the Turkish navy squadron in the Sinop Harbor is the day of our military glory… It was Admiral Nakhimov's greatest battle. Let's show the film about this, let's raise the spirits of our citizens. Let's recall all 12 wars in which we have beaten the Turks," the LifeNews website quoted LDPR leader Vladimir Zhirinovsky as saying in Tuesday's State Duma session.
Russia currently marks November 30, the anniversary of the Battle of Sinop, as a day of military glory, but not as a national holiday.
READ MORE: Kadyrov blames Turkey for executing 'Western plan to destroy Muslim nations'
The LDPR leader also commented on the news that Turkish border guards have started detaining Russian ships passing through the Bosporus Straits for extensive checks.
"I would like to remind Turkey that when they announced their intention to close the straits in times of the USSR, Soviet Foreign Minister Andrey Gromyko declared that all that the Russian ships would need to get through the straits were a few salvos of missiles that would make two additional exits into the Mediterranean," Zhirinovsky told MPs.
He noted that after these words, Istanbul had never attempted to threaten Russia with a blockade again. Zhirinovsky proposed that Russia's Foreign Ministry make a similar statement now.
Zhirinovsky and his party have made various anti-Turkish statements in recent days. Other initiatives included the appeal to Russian citizens to stop buying Turkish food products. "By eating a Turkish tomato you support terror," the party posted on its website. Last week, Zhirinovsky spoke on Moscow Calling radio and proposed to destroy Istanbul with an artificial tsunami caused by an underwater nuclear explosion.
READ MORE: Putin approves economic sanctions against Turkey following downing of Russian warplane
Zhirinovsky also recalled that his anti-Turkish sentiments were much older than the current political crisis. On his Twitter account, the politician wrote that he warned Russia against building a nuclear power station in Turkey five years ago. "I said back then that we were raising a monster near our southern borders. And now we raised it," he wrote.
You can share this story on social media: