Putin approves economic sanctions against Turkey following downing of Russian warplane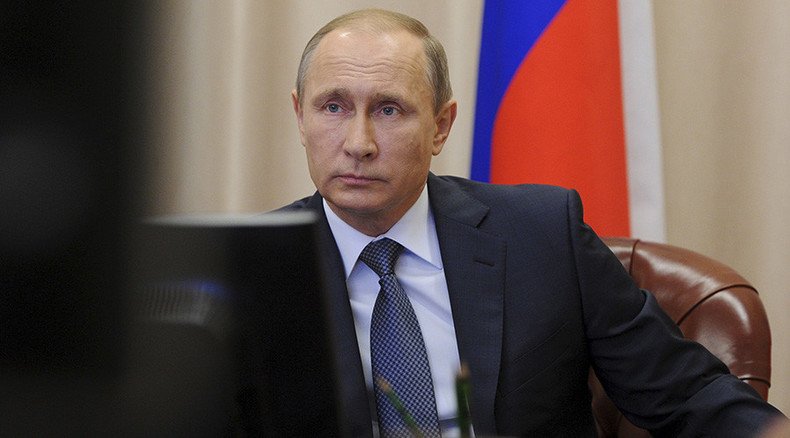 Russian President Vladimir Putin has signed a decree imposing a package of economic sanctions against Turkey following its downing of a Russian Su-24 bomber in Syria. The measures include banning several Turkish organizations and the import of certain goods.
A decree on "measures providing the national security of the Russian Federation and the protection of its citizens against criminal and other unlawful acts, and on imposing special economic measures in relation to Turkish Republic" was signed on Saturday, the Kremlin press service said.
Under the decree, the import of certain products originating from Turkey will be temporarily banned or restricted.
A number of Turkish organizations operating in Russia will also be restricted.
Employers in Russia will be prohibited from hiring Turkish nationals for work starting January 1, 2016.
The ban will touch upon only new workers, the decree said, adding that employees who already officially hired as of December 31, 2015 will not fall subject to the sanctions.
The president has directed the government to introduce a ban on charter flights between Russia and Turkey. Russian travel agencies have been advised to stop selling tours to Turkey, the Kremlin announced.
The government has also been tasked with enhancing security control at Russian ports in the Sea of Azov and Black Sea. The illegal presence and movement of Turkish vessels near to the sea ports must be prevented, the decree said.
READ MORE: Turkish F-16 attacked Russian Su-24 without warning, both were above Syria – commander
Bringing Turkish products into Russia for personal use will not be restricted, the decree said.
The visa-free regime for Turkish nationals traveling to Russia will be suspended starting from 2016, the decree signed by the Russian leader says.
READ MORE: Turkish citizens advised against all non-urgent travel to Russia
It will not affect those who have residence permits, as well as Turkish diplomats working in Turkish embassies and consulates on the territory of Russia, and their families.
A list of contracts not to be affected by the new economic measures will be compiled by the Cabinet, the Kremlin said in its Saturday statement.
The cooling of relations between the two countries was prompted by the downing of a Russian Su-24 bomber jet by a Turkish F-16 fighter at the Syrian border on Tuesday. As the plane was hit and went down in Syria, the two pilots ejected, but only one pilot was later rescued by the Russian forces. Another serviceman, Captain Sergey Rumyantsev was killed, with a rebel Turkmen brigade claiming they shot him to death while he was still parachuting.
READ MORE: Putin: Downing of Russian jet over Syria stab in the back by terrorist accomplices
Relations between Moscow and Ankara have been in decline ever since. On Saturday, the Turkish Foreign Ministry issued a statement advising its citizens against all non-urgent travel to Russia. Meanwhile, many businesses in Turkey have expressed fears Russian sanctions might badly hit the Turkish economy, affecting its trade and tourism industries. According to Russian Minister of Economic Development Aleksey Ulyukaev, the Turkish Stream project to deliver Russian natural gas to Turkey, and the construction of a nuclear power plant in the country could also be canceled.
You can share this story on social media: