Greenpeace compensation ruling in international court not recognized by Moscow
Published time: 25 Aug, 2015 13:16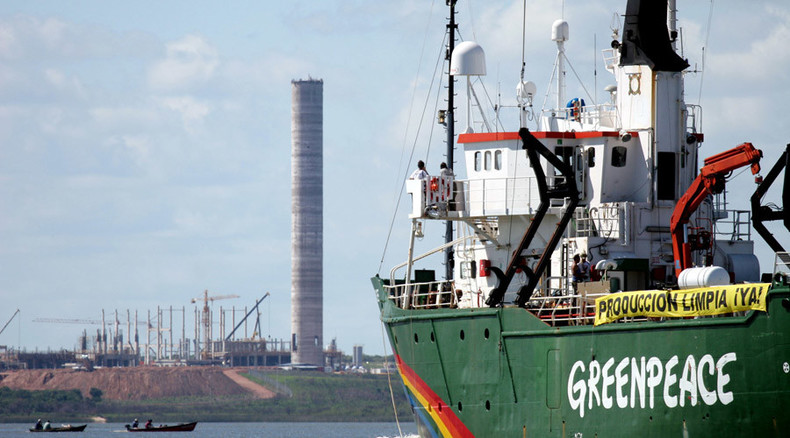 Russia's Foreign Ministry has announced that Moscow won't recognize an order by the International Arbitration Court to pay compensation over the 2013 impounding of the Arctic Sunrise ship that carried Greenpeace protesters to a Russian offshore rig.
The ministry's statement released on Tuesday reads that the Russian side did not participate in the court process and continues to maintain that the arbitration tribunal has no jurisdiction in the case.
The comment came soon after the Permanent Court of Arbitration in The Hague ordered that the Russian government must to pay damages to the Netherlands over the 2013 seizure of the Arctic Sunrise, which was protesting against oil drilling in the Russian sea-shelf zone. The court said the amount of damages would be decided at a later date.
READ MORE: Russia dismisses intl tribunal ruling on Greenpeace's Arctic Sunrise ship and crew
The Russian side also added in the statement that it would study the court verdict in detail after it is received, but even before that it was clear that the decision did not consider all aspects of the 2013 incident involving Greenpeace activists as well as all legal norms and court practices associated with the case.

In particular, the Foreign Ministry noted that the Arbitration Court ruling included certain inaccuracies in explanations of the Russian Federation's status as a legal heir to the Soviet Union. It also said that it had already elaborated on the Russian position on the case in the resolution dated August 5, 2015, that extensively detailed previous legal cases in which various nations prevented illegal activities by Greenpeace at sea.

"We regret that the court has ignored this document," the Russian diplomats wrote.
They added that the decision of The Hague court de facto encourages protest actions at sea that aren't peaceful, and which hinder absolutely legal economic activities in the national economic zones and on the continental shelf. This violates the rights of both private individuals and entire maritime states, the Russian side stated.
In September 2013, the Russian Coast Guard impounded the Arctic Sunrise and detained about 30 Greenpeace activists and two journalists who attempted to board the Prirazlomnaya oil platform in the Pechora Sea to stop its operations.
Russian law enforcers initially pressed charges of piracy against the detained, but later they were tried for hooliganism and released under an amnesty. Russian authorities also impounded the Arctic Sunrise for about 10 months, eventually returning it to Greenpeace.
READ MORE: Russia dropping all charges against 'Arctic 30' protesters - Greenpeace
The incident brought wide international reaction and also drew comments from top Russian officials, including President Vladimir Putin, who criticized the environmentalists for putting human lives in danger.
"By climbing on the platform, they have created an emergency situation and rig operators could have made more than one error. Among other things, there were divers underwater and their lives were in danger," the president said in November 2013.