Failure to execute presidential orders should be criminal offense – leftist MP
Published time: 15 May, 2015 10:39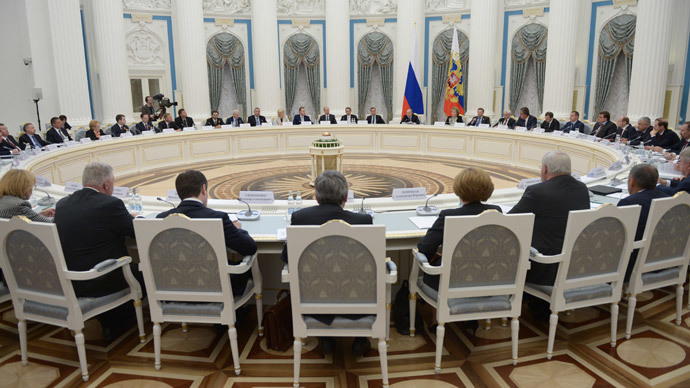 A Russian MP says heavy fines for failing to properly execute presidential orders would boost discipline among civil servants and help the state get rid of irresponsible officials.
Dmitry Gorovtsov of the center-left Fair Russia party has told reporters that he prepared a bill that, if passed, would amend the criminal code with an article introducing criminal responsibility for state officials who fail to fully execute presidential orders.
However, such actions would be considered a crime only if they considerably violate the rights of citizens or interests of state and society.
The proposed punishment is a fine of between 2 and 3 million rubles (US$40,000–60,000) or in the amount of convict's income of three or four years, with a ban on assuming official posts for up to three years. The MP emphasized that he wanted to prosecute the top officials in charge of the task and prevent them from pushing the responsibility down the bureaucratic ladder.
Gorovtsov said in comments with popular daily Izvestia that currently the Control Department of the Presidential Administration is monitoring the performance of civil servants engaged in execution of presidential orders and the same department can register the violations mentioned in his bill. The investigation into criminal cases will still be performed by police and the Investigative Committee.
The MP noted that the centrist political movement Popular Front has repeatedly expressed the concerns that the so-called May Orders – the major guidelines for national development signed by Vladimir Putin after his inauguration as president in May 2012 – will have been executed by 50 percent at most by 2018. The civil servants' performance on smaller-scale orders can be even worse, he added.
"Without criminal responsibility we will not start moving," the MP said.
READ MORE: Officials face career crash for failing to fulfill defense orders from govt
The May Orders include the plan for economic development, reforms in state administration, foreign policy, in science and the military, and also various social reforms, including healthcare, demographics and ethnic policies.
The orders are based on Putin's 2012 electoral program and are used by the president's political allies for promoting their course. The Popular Front movement announced in late 2013 that its representatives would oversee the implementation of the May Orders and report all violations to officials, including the presidential administration.
Earlier this month, the Russian government reported that its ministers had managed to execute 137 of 121 presidential orders in three years. To this, Vladimir Putin said that the government should estimate its performance not in simple figures but in quality of citizens' life. The president also acknowledged that the current situation could make the further work on his orders more difficult, and told the ministers to find additional reserves for this.