Obama's absence from V-Day parade won't bother Russian public - poll
Published time: 24 Apr, 2015 11:04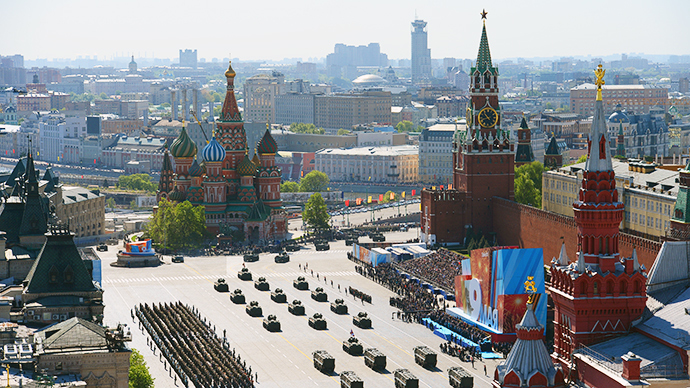 Russians view the upcoming Victory Day as an internal national holiday and won't be particularly bothered if it isn't attended by Western leaders such as US President Obama, says the latest research by the VTSIOM public opinion center.
The respondents said that, in their opinion, the authorities organize the May 9 parade first and foremost for veterans, secondly for the younger generation and the rest of the Russian people, and only to a lesser extent for the benefit of high-placed foreign guests.
Some 58 percent of respondents said they knew that some state leaders had officially refused to attend the May 9 parade in Moscow. Forty percent claimed they weren't aware of the snub. Of those knew about the situation, 52 percent said that it was unimportant, as opposed to 42 percent who thought that such a move by foreign leaders could be significant.
Most Russian citizens share the opinion that the main objective of the Victory Day parade is to preserve historical memory and traditions, not to demonstrate military might.
READ MORE: No selfie sticks, comrades! Leftists ask Moscow authorities to ban handheld devices on V-Day parade
The results of the poll confirm that the Soviet Union's victory in WWII remains not only a key event in both Russian and world history, but also a "cornerstone of modern identity of the Russian Federation as a nation," Valery Fyodorov, the head of the VTSIOM polling center, said in press comments.
"The narrative describing a sharp increase in militaristic sentiments in Russia and asserting that we want to demonstrate our military might to the rest of the world finds absolutely no validation in our research," he added. "We have not recorded any surge in militarism. Any talk about this is simply wishful thinking."
Among foreign leaders who have refused to attend the May 9 celebrations are Obama, German Chancellor Angela Merkel and British Prime Minister David Cameron, among others. Leaders from about two dozen other nations have accepted the invitation, however, and will be present at the celebrations.