Communists urge no debt repayment to countries supporting anti-Russian sanctions
Published time: 15 Apr, 2015 10:30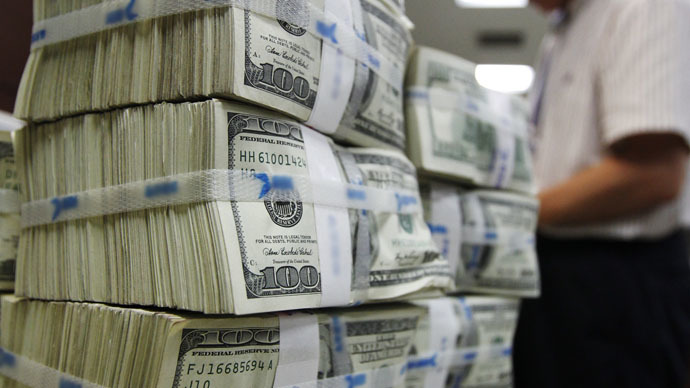 Russian Communists have drafted a bill that would allow the president to cancel treaties with nations that impose sanctions of Russia, including international borrowing contracts in government and private sectors.
The main sponsor of the bill, Communist MP Vyacheslav Tetekin, told the press he was motivated by certain articles in the debt agreements between Russia and foreign countries, which allows creditors to demand full debt repayment "if the financial state of the borrower or the country where the borrower is registered deteriorates sharply." The lawmaker said he feared this was what might happen to a number of Russian companies and banks impacted by sanctions introduced in 2014.
"As a result of intensified capital outflow and debt repayment, we could deplete all our reserves by the end of 2016. After this, international creditors would receive property rights for our banks and companies as we would be unable to repay the debts," Tetekin was quoted as saying by RIA Novosti.
The lawmaker added that in his opinion Western sanctions blatantly violated international law and called for reciprocal measures "in the form of reprisals." It would be a just move to suspend all contracts with sanction-wielding countries and organizations, he added.
READ MORE: Lack of EU unity will prevent new anti-Russian sanctions – MP
The United States, the European Union, and nations, such as Australia and Japan, introduced sanctions against Russian individuals and companies in early 2014 as a reaction to Russia's alleged involvement in the military conflict in southeastern Ukraine. Russia replied with its own sanctions on officials and politicians who demonstrated anti-Russian views, and also with an embargo on agricultural produce from nations supporting the sanctions.
Earlier this year, several top Russian officials, including presidential press secretary Dmitry Peskov, said sanctions will never force Russia to change its policies. Peskov referred to them as "a double-edged sword" that, while causing certain discomfort to the Russian economy, were also hurting businesses in the countries that introduced them, not to mention the world economy as a whole.