Leftists aim to cancel 'eternal' terms for Russian governors
Published time: 3 Apr, 2015 14:34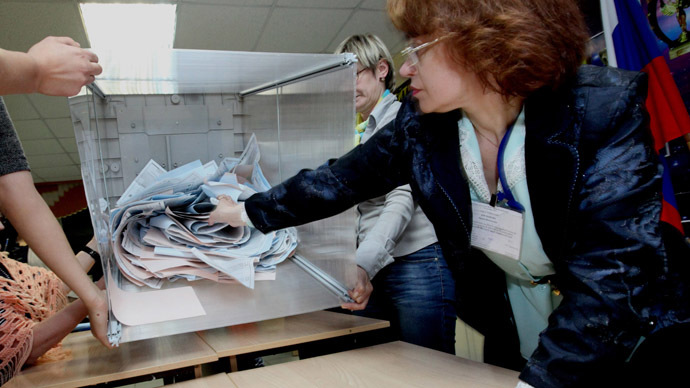 Center-left party Fair Russia has prepared a bill that once introduced would limit the number of terms for both elected and appointed heads of Russian regions to two.
Sources in the Fair Russia caucus in the State Duma told the government daily Rossiiskaya Gazeta the bill had been approved by all Lower House factions. They also said the motion will most likely be submitted to parliament on Monday, April 6.
The party's press service explained that the main objective behind the bill was to give more guarantees for power turnover in the country. Besides, it would rid the country of the current legislative paradox whereby the Russian president can only be elected for two terms in a row with no such limitation for regional leaders.
The bill allows politicians who served two terms in a row as the head of one of Russia's region to immediately run again in another region. The sponsors of the motion think it would also benefit turnover of power, Rossiiskaya Gazeta reported.
Fair Russia suggests that if the motion is passed the terms of regional governors should be counted from 2012 – the year when elections of governors were inaugurated again in the country, replacing presidential appointment that was introduced in 2004.
Political experts welcomed the move saying that if the number of electoral terms is limited, the governors will have fewer opportunities for building corruption schemes.
READ MORE: Pro-Putin majority party sweeps first nationwide election day
In May 2014, Fair Russia suggested a legislative move limiting the powers of regional leaders. A group of MPs prepared a bill that would ban the voluntary resignation of governors with subsequent early elections. The maneuver has been practiced by several appointed politicians who usually remained acting heads of regions until the poll and continued to enjoy the benefits of this position, while their opponents have less time to prepare their campaigns.
At the last nationwide election day - September 14 – 28 of 30 gubernatorial seats were won by the parliamentary majority party – centrist conservatives United Russia. A Communist candidate won one of the remaining posts and an independent with a liberal pro-business agenda was re-elected to occupy the other.