Russia-US relations 'poisoned' for decades to come – Medvedev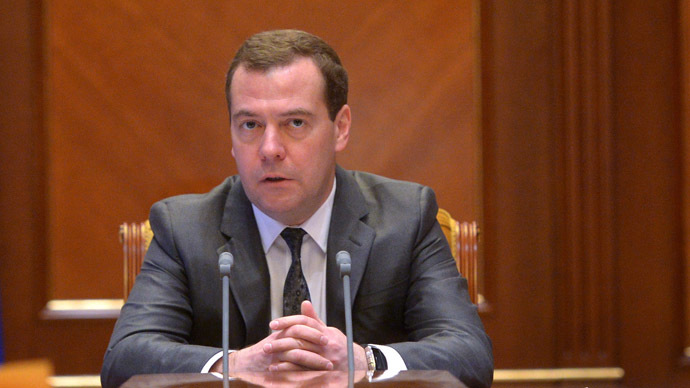 Russian PM Dmitry Medvedev thinks the recent unfriendly moves by Presidents Poroshenko and Obama effectively turn Ukraine into Russia's potential enemy. It will also "poison" relations with the US for decades to come.
On Facebook, Medvedev commented on the Ukraine Freedom Act 2014 signed by Barack Obama last week, and on the Ukrainian parliament's intention to cancel a national law forbidding them to join military blocs.
"As in the case with the Jackson-Vanik amendment, our relations with America will be poisoned for decades to come," he added.
Medvedev also underlined that if Ukraine changed its out-of-bloc status, it would in essence be an application to join NATO, rendering Ukraine Russia's potential enemy.
"Both these decisions would have extremely negative consequences," the Russian Prime Minister wrote, adding that Russia would have to react to such hostile steps.
Last week, Prime Minister Medvedev published an article, in which he warned Ukraine that EU economic policy is pushing them into a full scale crisis.
"The EU needs Ukraine primarily as a source of raw materials and definitely as a new market for European companies," he wrote. "No one is hurrying to invite Ukraine to the common European table as an equal partner. They aren't even offering a side chair; they are deliberately putting this country in a position of a girl who goes on dates that never end in marriage," the Russian PM said.
In the same article, Medvedev reviewed the history of Russian-Ukrainian relations and described his view on the future relations between nations that, in the PM's words, "don't have and never will have real borders between them."
You can share this story on social media: