'Dating that will never end in marriage': Medvedev describes Ukraine's chances in EU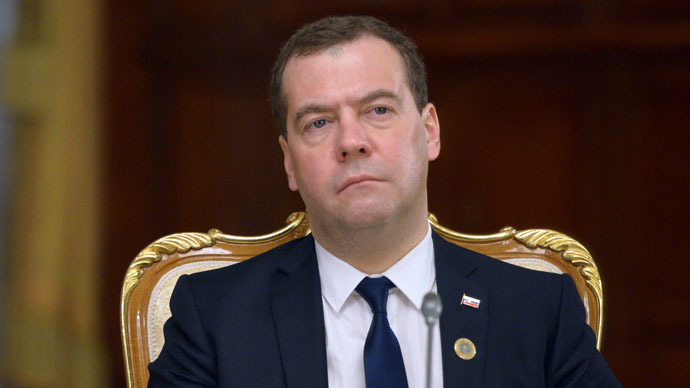 The program imposed by the EU on Ukraine to diminish its alleged economic dependence on Russia is pushing this unstable country into a full scale crisis, Russian Prime Minister Dmitry Medvedev writes in a newspaper article.
The PM emphasized that the planned economic cooperation between Ukraine and the European Union looks very much like neo-colonialism.
"The EU needs Ukraine primarily as a source of raw materials and definitely as a new market for European companies," he wrote. According to some estimations, the Ukrainian economy will lose about $33 billion annually as a result of these policies, Medvedev added.
The association agreement with the EU, which the current Kiev regime sees as an ultimate goal and key to prosperity, has definite priority over Ukrainian laws and national interests, Medvedev noted. Currently, no one in Europe wants to lend money to Ukraine.
"No one is burning with desire to give money to Kiev even for most urgent needs. In a very desperate situation, Europe would allocate some money to repay the debts on the verge of default. The European economy is itself getting out of crisis with great difficulty," reads Medvedev's article.
The US "$1 billion guarantees" also turned out to be empty words, and so far there is no financial help coming to Ukraine from America, it adds.
"No one is hurrying to invite Ukraine to the common European table as an equal partner. They aren't even offering a side chair; they are deliberately putting this country in a position of a girl who goes on dates that never end in marriage. It is sufficient to have a look at Turkey – this country signed the association agreement 51 years ago and it's still not a European Union member," the Russian PM says.
Medvedev also recalled a joke by one of his predecessors, Viktor Chernomyrdin, who was once asked when in his opinion Ukraine could become a EU member. "Right after Turkey," Chernomyrdin answered quickly. "When should we expect Turkey's membership," pressed the reporter. "Never!" quipped Chernomyrdin.
The PM covered the whole history of relations between Russia and Ukraine from the late 19th century through to the Soviet period and recent times. In the text published by the mass circulation daily Nezavisimaya Gazeta on Monday, he also concentrated on the future relations between nations that, in Medvedev's words, "don't have and never will have real borders between them."
You can share this story on social media: