Communists want parliament to investigate ex-Defense Minister Serdyukov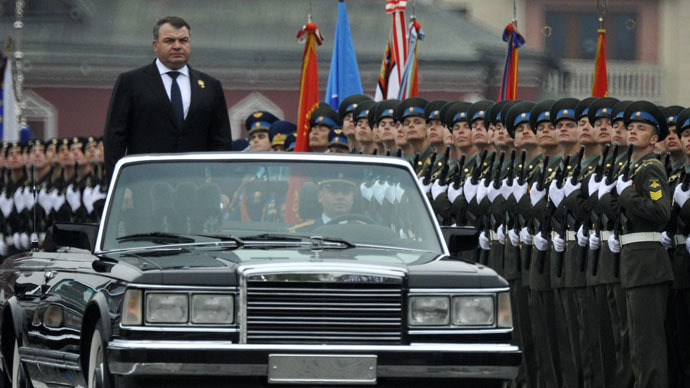 The Communists caucus in the State Duma wants a parliamentary investigation into former Defense Minister Anatoly Serdyukov whom they suspect of alleged complicity in a multi-million dollar fraud involving state property uncovered in 2012.
The request to hold a parliamentary investigation into the activities of former senior state officials have been already passed to the Lower House chairman who, together with the State Duma Council will now decide whether the issue should be put to a vote, deputy chairman of the Communist Party's Central Committee Valery Rashkin told the RIA Novosti news agency on Monday. 91 MPs signed the document, he added.
In December last year Communist lawmakers attempted to initiate a probe into Serdyukov's work as Defense Minister but the motion was turned down after it only got 202 votes, when it needed to be passed by a simple majority of 226 votes.
Anatoly Serdyukov was sacked from the post of Russian Defense Minister in November 2012 following a major corruption scandal. Investigators claimed that several highly-placed executives, including the former head of the Defense Ministry's property relations department, Evgenia Vasilyeva, picked lucrative state-owned real estate, invested state funds into them, and then sold them off to friendly companies at a significant discount. A total of 10 criminal cases have been launched, and law enforcers say they expect the number of cases to rise. Initially the fraud amounted to about 4 billion rubles (about US$130 million at 2012 rate), but with more details it grew to 6.7 billion rubles (over $215 million in 2012).
Several people have been charged in the case including Vasilyeva, who was described in the press as Serdyukov's personal friend. She remains under house arrest as the investigation continues.
Initially the ex-minister was only questioned as a witness in the embezzlement case, but later found himself facing charges of abuse of power over an episode in which he allegedly ordered government contractors to build a road to a privately-owned sanatorium in southern Russia. The cost to the state budget was 56 million rubles (over $2 million). Serdyukov pleaded not guilty to the abuse of power charges and claims he was unaware of the suspected embezzlement in his ministry.
In March this year the abuse of power charges were dropped as part of a large-scale amnesty to commemorate the 20th anniversary of the modern Russian Constitution.