Russian MP praises European leader's 'sobriety', willingness to compromise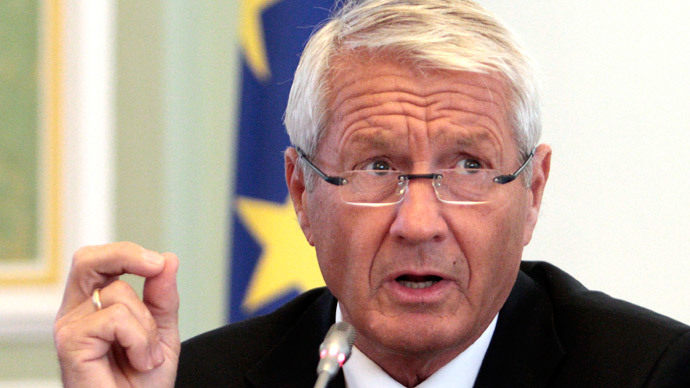 Unlike most Western politicians, Council of Europe Secretary General Thorbjorn Jagland is ready to cooperate with Russia to find mutually acceptable solutions to the current crisis said the head of the Duma's Foreign Relations Committee.
"We must give tribute to Thorbjorn Jagland; he is one of the few European politicians who maintain a sober conscience instead of supporting the Kiev authorities no matter what they do. We have heard that he was concerned with the human rights situation in South East Ukraine, including the humanitarian situation," MP Aleksey Pushkov told Izvestia Daily. Pushkov was commenting on Jagland's meeting with State Duma Speaker Sergey Naryshkin and other Russian lawmakers.
The Lower House's foreign relations chief emphasized that the Secretary General of the Council of Europe does not share PACE's opinion on the events in Ukraine. Pushkov said in his interview that PACE, despite being the world's leading rights organization, completely ignores the mass violations of human rights in Ukraine. Among such violations the Russian lawmaker mentioned the May massacre in Odessa and mass graves of civilians discovered near Donetsk.
MP Pushkov said that the Secretary General still disagreed a lot with the Russian side. This included the changes in Russian law regulating the activities of non-government organizations. Also, Jagland holds that neo-Nazi sentiment is on the rise all over Europe, and Russian politicians should not single out Ukraine in their criticism.
"But our position is that the manifestations of neo-Nazism in Ukraine is much more visible and obvious, and the Council of Europe and its Parliamentary Assembly are being unacceptably passive in this regard," the Russian lawmaker stated.
"PACE representatives do not care how many more people will die on Ukraine's road to the European alliance," he added.
Pushkov also said that he got the impression that Secretary General Jagland could be seen as a Russian partner capable of compromise.