Duma asks European body to protect Russian reporters in Ukraine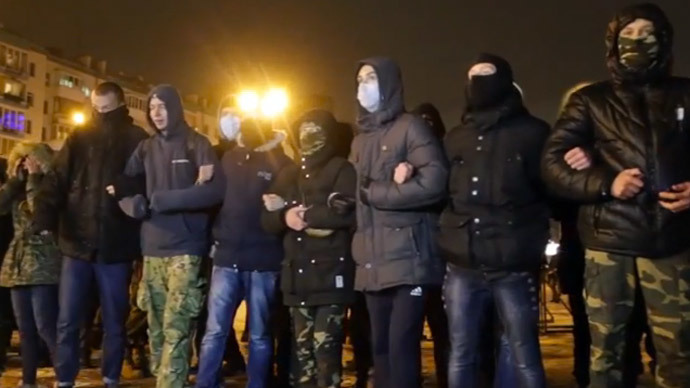 The Lower House has addressed the Parliamentary Assembly of the Council of Europe (PACE) asking to protect Russian journalists in Ukraine from attacks by nationalist radicals, but official Kiev is turning a blind eye to the request.
The address was initiated by MP Roman Khudyakov of the populist nationalist LDPR party, who said in comments to his motion that the recent incident with Russian reporter Yevgeniya Zmanovskaya of the Lifenews media company was a very vivid confirmation of the current surge in hatred and ethnic strife in Ukraine.
"The principles of democracy and freedom of speech do not work in Ukraine. Kiev has resolutely taken the path of terror and intimidation of all dissident. I am not surprised by the fact that Ukrainian police have chosen not to protect Russian reporters, but I am outraged by the silence of Europe," the lawmaker said in an interview with mass circulation daily, Izvestia.
"The USA and the European Union are lecturing us on some infringements of human rights in Russia, but what can we see in reality? In Ukraine, that is longing to be a part of Europe, a female journalist is beaten and humiliated," he said.
The MP was referring to an incident on Wednesday in Kiev, when a group of young radicals attempted to disrupt a concert by local pop star, Ani Lorak, and attacked spectators and reporters on their way to the show. The Russian LifeNews agency reported that its female correspondent, Yevgeniya Zmanovskaya, was beaten and teargased by unknown people as Ukrainian reporters cheered and accused their Russian colleague of "spreading lies." When Russian journalists turned to police officers for help they were told to "go back to Russia."
Khudyakov added that the European lawmakers represented by the PACE must investigate and denounce all violence against reporters that have recently taken place in Ukraine. "Europe has probably forgotten who defeated Nazism and what price the whole world had to pay for this. Now the Ukrainian authorities are living by the same principles. We see repressions against journalists based on ethnic distinctions. Europe must make a harsh statement on this issue," Khudyakov noted.
In a separate comment, reporter Yevgeniya Zmanovskaya confirmed that she had regularly faced insults and humiliation from her Ukrainian colleagues. She also noted that after she and her crew were briefly detained by Ukrainian police in mid-October, Ukrainian Interior Minister Anton Gerashchenko personally thanked the officers on his Facebook page for "demonstrating patriotism and refusal to speak Russian."
Earlier, the Russian Union of Journalists also asked the European organization to give their assessment to the events that unfolded in Kiev on Wednesday.
Soon after the scandal, the Ukrainian internal security service, the SBU, issued an official entry ban for 83 reporters from Russian state-run and private media companies. 10 journalists were expelled from the country and 73 were not allowed to enter Ukrainian territory, Markiyan Lubkivsky, an aide to the SBU director, wrote on his Facebook page.