Nationalist frenzy takes over pop star's concert in Kiev (VIDEO)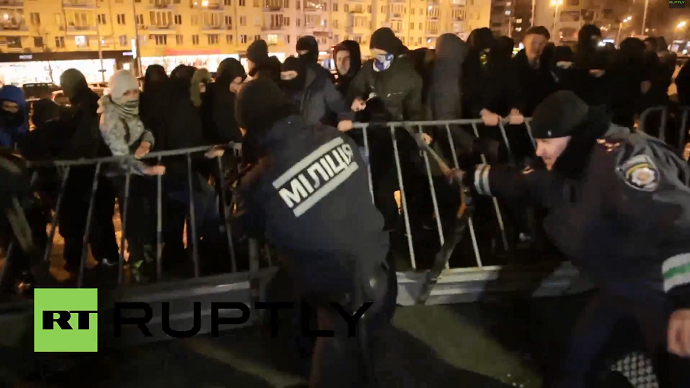 A crowd of 100 nationalist youths attacked a music venue in Kiev ahead of a performance by popular Ukrainian singer Ani Lorak. The mask-wearing attackers threw rocks and eggs, and used tear gas against concertgoers. A Russian journalist was also attacked.
Protesters blocked off the entrance to the Palace of Ukraine, where the singer was scheduled to perform. They shook makeshift fences, yelled, and verbally abused police officers and concertgoers.
Ruptly's footage from the scene shows mainly ultranationalist youths shouting obscenities and slogans while throwing rocks and firecrackers. The venue was apparently damaged by the rioters, with some of its windows shattered.
According to TASS, some even used tear gas on people trying to make their way into the concert hall, and threw eggs at them. Several people were beaten. LifeNews agency reported that its female correspondent was among those assaulted. The agency later uploaded a video showing the entire incident, in which journalist Yevgeniya Zmanovskaya is approached by local press who accuse her of "spreading lies." She is then hit on the head from behind and teargassed directly in the face by unknown people.
At least three police officers were injured and sought medical help after being hit by tear gas, local police said in a statement cited by Interfax-Ukraine.
В Киеве около ста радикалов избили российскую журналистку и пытаются сорвать концерт Ани Лорак http://t.co/xYj4W9mgBfpic.twitter.com/QP2ToeOLEx

— Коноваленко Татьяна (@tanya_anitey) November 27, 2014
A heavy police presence was deployed to monitor the situation. Local authorities opened up a criminal investigation into the incident.
Following the incident, an official from Ukraine's Ministry of Internal Affairs said that radical Svoboda party members are believed to be behind the attack.
"Representatives of the Svoboda party tried to disrupt [the concert]," Anton Gerashchenko, an advisor to the ministry, said on his Facebook page.
Лучшего концерта и не видела))Ахаха пришли на лорак а получили Мирошниченко) pic.twitter.com/pDKiriKX1Z

— Наш Харьков (@MaidanKharkiv) November 26, 2014
He added that footage from the scene reveals that the same individuals are responsible for other acts of vandalism in the capital, such as the destruction of a fence in Osokorky – Kiev's historical neighborhood.
This is not the first time the Ukrainian singer – considered pro-Kremlin by the nationalists – has encountered attempts to disrupt her performance. A similar 'demonstration' took place in Odessa back in August, when a crowd of about 200 people stormed Lorak's concert venue, causing the gig to be canceled.