Kiev nationalists clash with police outside Orthodox monastery (PHOTOS, VIDEO)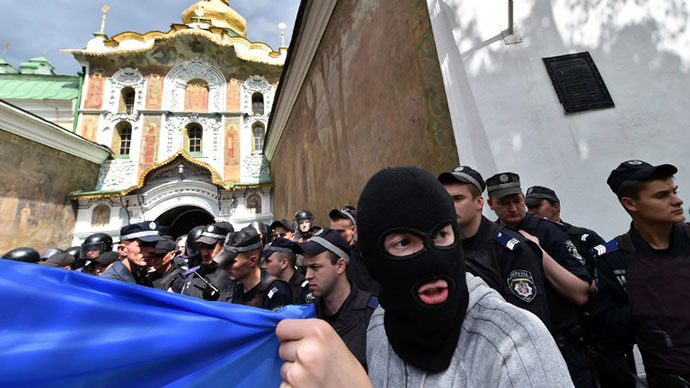 Ukraine nationalists have clashed with police outside the citadel of the Orthodox Church in Kiev, the Pechersk Lavra, as the churchgoers and monks were about to hold a peace service praying for an end to violence in Ukraine.
According to various media reports up to 500 ultra-nationalists, representing the Right Sector and Ukraine's Patriots neo-nazi movements, clashed with around 100 policemen in an attempt to disrupt the Procession of the Cross at one of the centers of the Eastern Orthodox monasticism in Eastern Europe.
The procession was supposed to start at noon local time in the Holy Dormition Cathedral of the Kiev-Pechersk Lavra and end up at the monument of the Unknown Soldier. Participants in the rally, mostly elderly, oppose Kiev's military operation in the Donetsk region.
Ultra-nationalists claimed that "separatists" were planning to use the event as a chance to gather and form a "Kiev's People Republic" and used a "few dozen grandmas" to disguise their plan.
After the armed ultra-nationalist crowd arrived at the gates of the convent, the Lavra was forced to shut fearing clashes.
"After the crowd of activists with baseball bats and hammers, some wearing bulletproof vests arrived at the Lavra, the entrance and exit to the shrine was closed. According to law enforcement, this was done to avoid clashes," spokesman for Ukrainian Orthodox Church, Fr. Georgiy Kovalenko shared his account of the events surrounding the procession service on his Facebook page.
The clergy asked the angry mob – some of whom claimed they came to the monastery "to pray" – to lay down their arms. But when asked to cite a prayer, according to Kovalenko, they could not remember a single one.
Around 250 people, some wearing St. George's ribbons, were forced to seek shelter and hold the procession inside the walls of the monastery, while around 100 law enforcement officers secured the premises. It is still unclear how many people were injured in the clashes outside the walls of the monastery.
Kiev Pechersk Lavra issued a statement after the incident saying that according to Appeal Holy Synod, the Ukrainian Orthodox Church "as always calls on all parties to the peaceful resolution of conflicts and enhanced prayer." It reminded that the monastic life should not be disturbed or used for political purposes.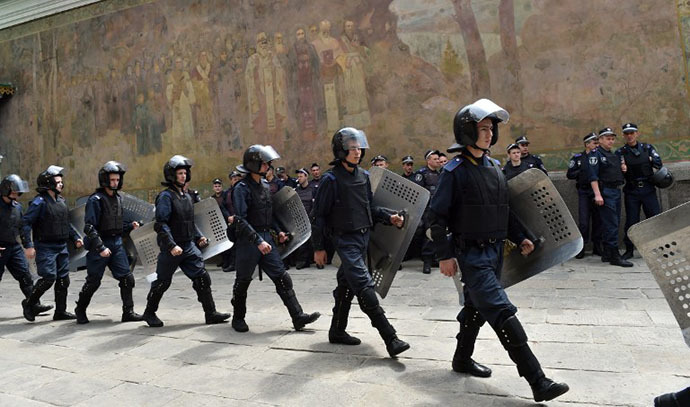 After the raid on the monastery around 60 nationalist activists staged a rally at the Russian embassy in Kiev, Russia's Press Atache Oleg Grishin said.
"The gathered are behaving aggressively. They are trying to break through the cordon of the consulate building, stoning representatives Ukrainian law enforcement agencies," RBK quoted Grishin. "The situation is tense," the diplomat added. No one was detained at the rally that lasted around two hours.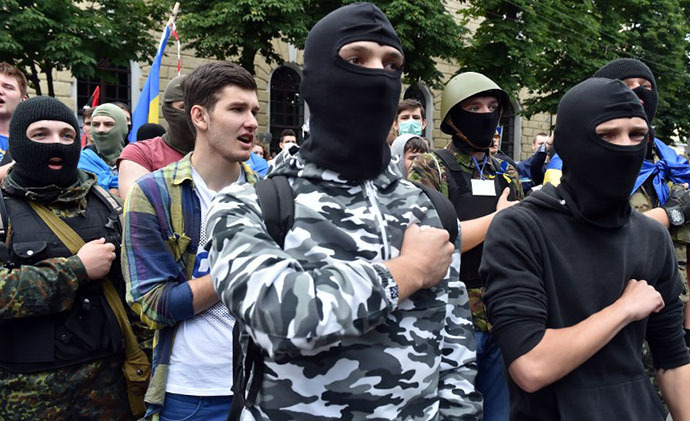 Also on Sunday, the nationalists vandalized a Kiev branch of Russia's Sberbank pelting cobble stones and throwing firecrackers inside.