Western UNSC members block Russia's draft resolution on Kiev embassy attack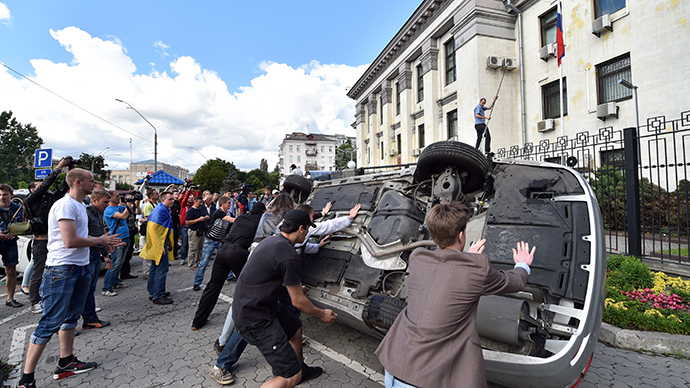 Western countries in the United Nations Security Council have blocked Moscow's draft resolution condemning the attack on the Russian embassy in Kiev, a source in the UN says.
"Western delegations in the Security Council have blocked the Russian draft resolution condemning the attack on the embassy of the Russian federation in Kiev," the source told RIA Novosti news agency.

Russia presented the proposal on Saturday after a few hundred people stormed its embassy in the Ukrainian capital, throwing stones and firecrackers and overturning diplomatic cars. A Molotov cocktail was pelted at the premises, causing a minor fire which was extinguished by firefighters. The demonstrators – among them members of the far-right group Right Sector – protested against Russia's alleged involvement in the crisis in eastern Ukraine.

Meanwhile, Didier Burkhalter, head of the Organization for Security and Co-operation in Europe (OSCE), expressed concern over the incident and urged Ukrainian authorities to ensure the safety of all diplomatic missions.

Earlier, the Russian Foreign Ministry issued a statement condemning the attack and demanded that Kiev provide security for Russian diplomats.

"Moscow is extremely outraged at the provocative actions of fascist-like thugs in Kiev against the Russian Embassy. Moscow demands the Ukrainian side take all necessary security measures to protect Russian diplomats in Kiev," the statement said.

No such measures have yet been taken by Kiev, which is a "fragrant violation of Ukraine's obligations," the ministry said.

Washington on Saturday spoke out against the violent action and called on Kiev to ensure the security of Russian diplomats.

"The US condemns the attack on the embassy of the Russian Federation in Kiev and calls on the Ukrainian government to fulfill its obligations under the Vienna convention to ensure the necessary security measures," US State Department spokeswoman Jen Psaki said, as quoted by RIA Novosti.
The head of the Russian State Duma's International Affairs Committee, Aleksey Pushkov, believes the attack on the Russian embassy in Kiev was pre-planned.
"Otherwise, where did the protesters get the firecrackers?!" he wrote on Twitter. "It was not a spontaneous action, but a thoroughly planned one."
You can share this story on social media: