Russian PACE mission ready to return - Duma speaker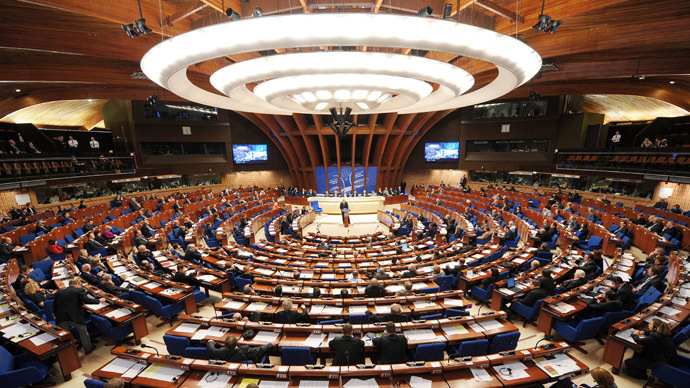 Despite remaining disagreements the Russian delegation is ready to restart its full participation in the Council of Europe's Parliamentary Assembly, says the State Duma speaker.
"Our delegation is ready to return to the full-format participation in PACE's work in 2015 because for us the values of democracy and justice, of parliamentarianism and dialogue are not just empty words," Sergey Naryshkin wrote in his "Chance for Dialogue" article published by Rossiiskaya Gazeta daily.
The State Duma chief added that in his opinion PACE had a huge potential for overcoming the current crisis of political trust in Europe. He urged his foreign colleagues to renew the assembly's agenda, removing all unimportant questions, and adding those that are of primary importance.
Russian parliamentarian have also called for large-scale PACE reform that would guarantee real equality for all delegations and all MPs, removing any possibility of "bureaucratic cleanups of unfavorable topics and suggestions."
According to Naryshkin, the differences between the Russian delegation and other PACE members were still strong and sometimes unsolvable, but also the understanding of the importance of dialogue was growing.
"More PACE parliamentarians understand that without Russia's full participation the assembly's potential is significantly undermined. And its reputation as a pan-European and democratic discussion platform is undermined as well," the Duma speaker wrote.
In April the Parliamentary Assembly of the Council of Europe approved an anti-Russian resolution over the political crisis in Ukraine, depriving the Russian delegation of the right to vote, and banning it from participation in PACE's ruling bodies and monitoring missions till the end of the year.
In reply, the State Duma said nations who repeatedly violated international law, causing thousands of casualties, have no moral right to judge Russia or impose sanctions on it. Russian MPs also said that they considered it impossible to resume discussions at PACE while sanctions against Russia are still in force.
In January, PACE will have to officially reconfirm the Russian delegation.