US, NATO policies push world to brink of new Cold War – Duma Speaker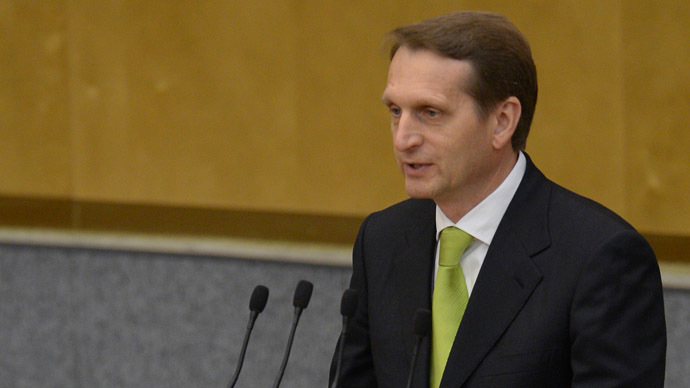 The Chairman of the State Duma has described as "cynical and irresponsible" steps taken by the United States and its allies which will result in a renewal of the Cold War that has already become a modern day reality.
Sergey Naryshkin was speaking at the opening of the Lower House's fall session and said that the international situation had become much more tense in a very short period of time. "The long awaited ceasefire in the Donetsk and Lugansk republics has stopped the large-scale bloodshed for a while, but crisis and standoff continue in Ukraine," the top Russian MP emphasized.
Naryshkin also noted in his speech that the chaos in the center of Europe has not cooled the belligerent moods of those who provoked it six months ago. He pointed at the recent NATO summit as one of the factors that led to the tension.
"We can hear from various sources that certain countries of the NATO block have promised to supply weapons and military hardware to the Kiev regime and this threatens to become a direct intervention in Ukraine's internal affairs as well as complicity in the crimes that are still being committed there," the Duma speaker said.
At the same time, Naryshkin pointed out that the aggravation of the situation allowed all parties in the conflict to be unmasked and the real truth be shown to ordinary European citizens. "We see that many citizens of European nations, who are practically living under an information blockade, have started to inconveniently question their national authorities."
In addition, the European people have started to understand that mindless fulfillment of orders from Washington which devalues the national sovereignty of once great European powers. As a result, the European businesses and ordinary citizens suffer from economic loss, the common European space faces the threat of destabilization and possible future disintegration, Naryshkin added.
However, the Duma chief also acknowledged that many European parliaments understand the essence of the US policies and would never stop dialogue with Russia. "We must continue the dialogue with such partners. This is what preserves the "bridges of trust" that would help us to restore peace in Ukraine and counter other common global threats," he told Russian lawmakers.
Naryshkin's accusations against the US and NATO came as the Western military bloc is launching the "Rapid Trident" exercise in Western Ukraine – a major military event with participation of 1,300 troops from 15 nations.
The exercise, code-named "Rapid Trident" has been an annual event since 2006, and has been organized by the Germany-based US European Command (EUCOM). It was initially planned to have this year's drills in mid-July, but they were postponed because of heavy fighting in eastern Ukraine. Earlier in September, Ukrainian and American naval forces held joint maritime exercises in the northwestern part of the Black Sea.
You can share this story on social media: