Duma attacks anti-Russian actions at PACE, threatens to quit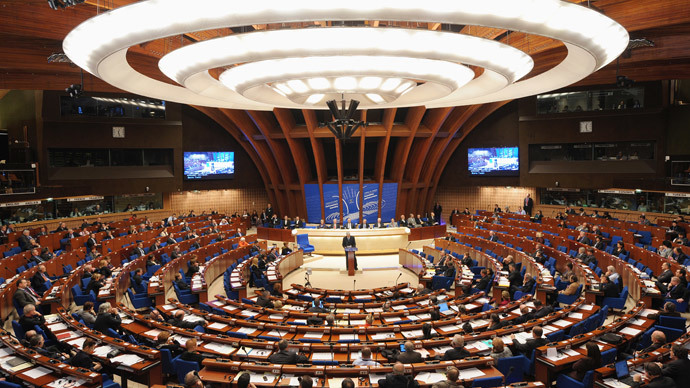 Russia's lower house has denounced steps taken by the Council of Europe's Parliamentary Assembly to hold a vote to reduce the powers of the Russian delegation. The MPs also threatened a walkout if the vote goes ahead.
"Attempts are being made to destroy the channels and the very foundation of the all-European inter-parliamentary dialogue with participation of the Russian Federation that has been effectively working within the PACE framework" reads the statement prepared by State Duma speaker and heads of all four parliamentary caucuses and approved by the unanimous voting on Tuesday. The document also calls the recent suggestion to deprive Russia's delegation in the assembly as "the most destructive factor built on the biased reports and assessments of the situation in Crimea."
Russian lawmakers stressed that the dispute between Russia and the Council of Europe was only in the interest of "the forces that are not happy with the development of a multi-sided and successful cooperation between Russia and its European partners." They also called upon colleagues from PACE to stand up against radical nationalism, attempts to bait European countries against each other and the resurgence of Cold War phobias, expressing hope that cooperation will not become a hostage to the political situation and a target of external manipulation.
The day before, State Duma speaker Sergey Naryshkin accused "the partners across the ocean" of backing the anti-Russian sentiments in PACE, and called the suggestion to suspend the Russian delegation's voting right a provocation and a blow to democratic values, as well as the very essence of parliamentarianism.
The head of the Lower House Committee for foreign affairs, Aleksey Pushkov, told fellow deputies that the Russian delegation to PACE intended to leave a session if the question of depriving it of powers is put to a vote.
"We admit the possibility that the anti-Russian passions could prevail in PACE, but in this case we consider it necessary not to allow the vote to strip the Russian delegation of its powers. If we see that is likely the Russian delegation would walk out of the session before the actual vote and thus there will be no one to deprive of powers. We will not give our opponents the pleasure to vote for our exemption," Pushkov promised.
"This does not mean that we plan to completely quit the Council of Europe and the Parliamentary Assembly. In late 2014 we can again raise the questions of our powers in a different political environment," the politician added.
The flamboyant leader of the Liberal-Democratic party Vladimir Zhirinovsky, suggested Russia started paying its membership fee to PACE at the end of the year to allow itself more space for maneuver while facing the threat of expulsion.
You can share this story on social media: