​Russia blasts PACE's 'double standard' resolution on Ukraine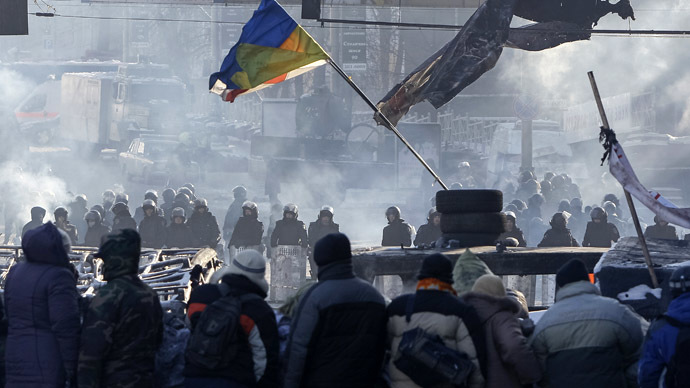 The Parliamentary Assembly of the Council of Europe on Thursday threatened to suspend Ukraine's delegation to the human rights body and blamed Moscow for "interfering" in the Kiev crisis. Russia has slammed the resolution for "double standards."
Follow RT's LIVE UPDATES
The assembly adopted a damning resolution on the current political crisis in Ukraine, titled "The functioning of democratic institutions in Ukraine." It passed with 115 votes in favor, 37 against and 14 abstentions.
After accepting an amendment to its original resolution, PACE said it will not immediately suspend the voting rights of the Ukrainian delegation, but "it could consider such sanctions at its part-Session in April if grave Human Rights violations continue or if the Maidan [Independence Square] protest were to be broken up by force."
Ukraine has been one of the PACE's member countries since 1992. The international parliamentary assembly, which is one the multilateral organs of the Council of Europe, has powers to investigate, recommend and advise.
Thursday's resolution said the Ukrainian parliament "contributed to the violent escalation of the crisis when it adopted the controversial anti-protest laws" this month, and said they "should be repealed in their entirety… without delay."
Most of the anti-protest laws, which many opposition activists branded as "draconian," were repealed Wednesday in an emergency parliamentary session. This latest development was not included in the PACE resolution.
The controversial regulations, which the organization calls "undemocratic and repressive," included such measures as a ban on wearing masks during protests. However, covering your face during a protest is a public order offense in several European countries, including Austria, Germany, Spain and the United Kingdom.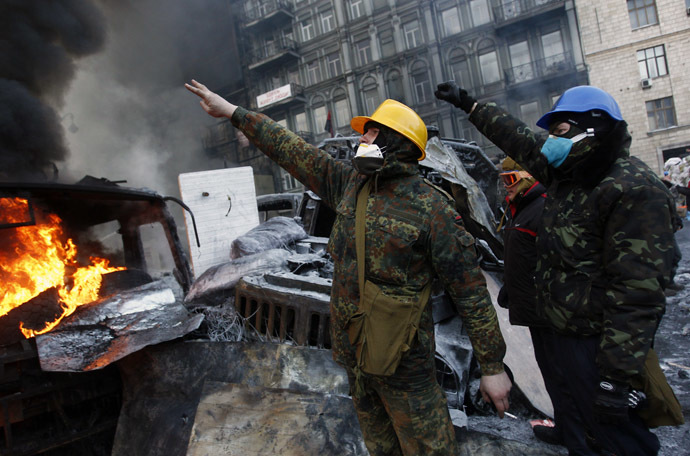 The PACE resolution also described Russia's warning that it would have to revoke Ukraine's trade preferences if it signed a free trade agreement with the EU as "threats of sanctions and economic and political blackmail to influence political decisions in another country."
Russia argues that its position can be understood by concerns over its economy, which would need protection from an inflow of goods that would come after Ukraine fully opened its market to European countries. Ukraine decided to postpone signing the key EU integration deal, citing the cost it would impose on its economy, a development which triggered anti-government protests in November 2013.
PACE justified the numerous visits of western officials to support the Ukrainian opposition, saying that "any developments that could undermine the proper functioning of democratic institutions… are legitimate areas for concern or criticism from other countries, especially from other Council of Europe member States." The assembly voted in favor of boosting monitoring of the political situation in Ukraine.
Even before the resolution was adopted, Russian officials criticized it for being one-sided, shallow and anti-Russian.
"In the resolution, PACE and EU member states are again attempting to target Russia through the perversion of events and facts. It's political aggression," Aleksey Pushkov, the chair of Russian parliamentary committee on foreign affairs, who also head Russia's delegation to PACE, wrote on his Twitter account.
He added that the PACE resolution was full of "double standards."
His fellow MP Leonid Slutsky dismissed allegations that Russia is pressuring Ukraine and had bought its non-alliance with the EU with a $15 billion credit.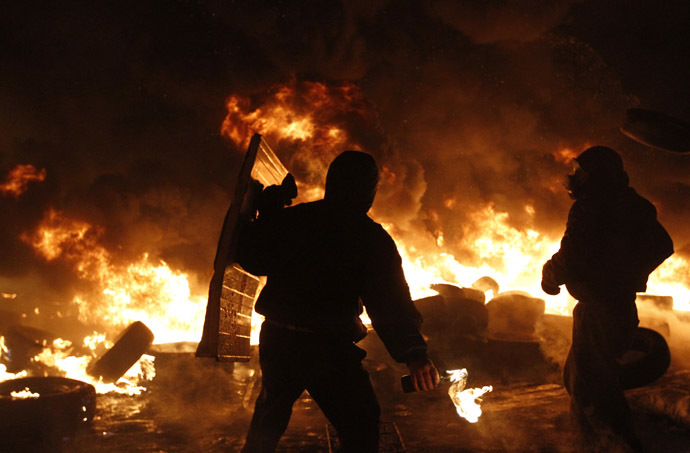 Kiev January 24, 2014
"Russian politicians didn't make statements at the Maidan or anti-Maidan [protests]. Russia did not buy anyone, didn't bribe anyone, didn't push anyone to anything. We are just helping our brother people," he said, following the PACE vote.
Slutsky said that the document PACE adopted, "could have been penned by the same western politicians who have been brusquely and rudely interfering with Ukraine's internal affairs, and in violation of all international norms addressed the Euromaidan, coercing Ukraine to go to the EU."
Ukraine's political crisis, which was marred by days of intensive violence last week, in which rioting radical activists bombarded riot police with petrol bombs and stones, has not showed any sign of resolution.
The Ukrainian government agreed to a number of demands by the opposition, including disbanding the government, repealing controversial laws and offering amnesty to most participants of the protest. But the opposition is demanding more concessions and is refusing to vacate the governmental buildings it has seized. This ending of the protests has been a key condition from the government for implementing an amnesty for detained protesters.
You can share this story on social media: