Russian senators condemn Ukrainian protests, warn of dire consequences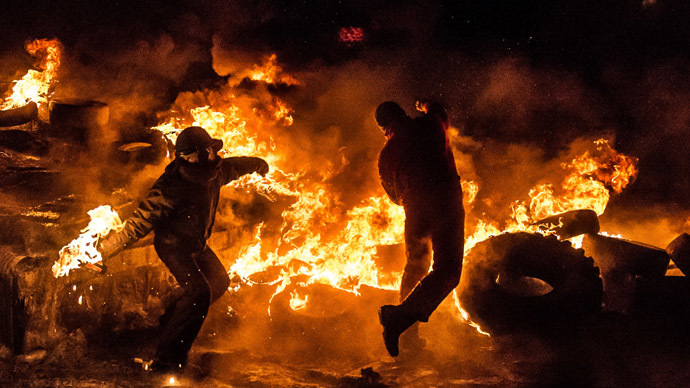 The Russian Federation Council has hit out at the riots in Kiev, saying they have nothing to do with peaceful protest, and that the attacks were approved by Ukrainian opposition leaders.
The statement passed by Russia's Upper House on Wednesday also says the civil unrest in the Ukrainian capital was an organized campaign aimed at displacing lawfully elected officials. The Russian senators say the current Ukrainian crisis "will have grave consequences for the country's people, statehood and territorial integrity."
The Upper House MPs also expressed concern about the behavior of a number of foreign politicians who had allowed themselves to interfere with the affairs of the sovereign nation of Ukraine. They called such interference a premeditated provocation that further destabilized the situation.
The Federation Council called upon all representatives of Ukrainian society to search for solutions through constructive dialogue and without ultimatums. The Russian parliamentarians expressed the hope that the Ukrainian authorities and people would find ways to restore order in the country.
The Upper House's statement is very similar to one approved by the Lower House about a week ago. The State Duma also called upon foreign politicians to stop instigating violence by voicing approval of the rioters, and said that Russia had extended financial aid to neighboring Ukraine to help it overcome an economic and political crisis.
At the Tuesday press conference held after Russia-EU talks President Vladimir Putin assured that Russia would not alter its plans to help Ukraine if those in power in the country changed, but said that this was possible if Ukraine also honors all conditions of the agreements. The loan and the gradual reduction of gas price were to "support the people of Ukraine, not the government", Putin said. "It's the ordinary people who always suffer," he added.
In mid-December 2013 Putin secured a deal with Ukrainian President Viktor Yanukovich under which Russia is buying $15bn of Ukrainian debt in 2-year bonds and also giving Ukraine a $3.5 billion discount on natural gas purchases on behalf of state-owned Gazprom. Ukrainians will pay $268.5 per thousand cubic meters of natural gas instead of $400, a nearly 33 percent discount.
On Wednesday the President raised the question again at a government conference and told officials that all contracts with Ukraine must be completely fulfilled. However, President Putin and Prime Minister Dmitry Medvedev said that Russia would wait for Ukraine to form a new government before starting to execute its obligations.
You can share this story on social media: