No EU country would tolerate Ukraine protest violence at home – Lavrov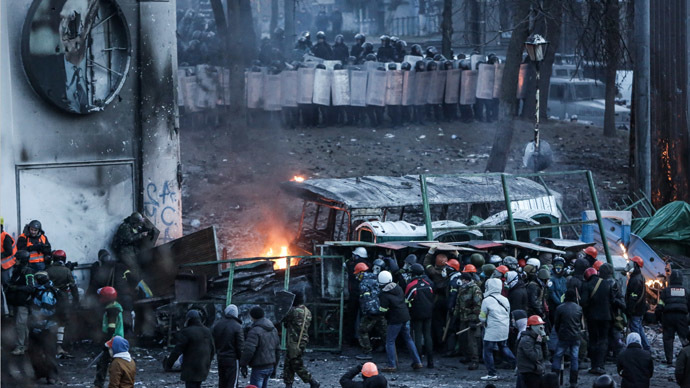 Russian Foreign Minister Sergey Lavrov said the violence currently consuming the Ukrainian capital Kiev was in "no small part" being organized from abroad, adding no EU country would accept such disorder within its own borders.
"As it turns out, these agitators have not even considered the interests of the Ukrainian opposition itself, in so far as they have attempted to incite violence," Lavrov said during a media conference in Moscow.
"When something like this happens within a European country, no one questions the need to curb the disorder and violence with firm measures," he added.
Lavrov criticized some European states for handling the Ukrainian crisis in such an offhand manner, warning that their interference could cause the situation to spiral out of control. He was especially critical of the fact that members of several European states have rushed to Independence Square in Kiev to participate in the anti-government demonstrations despite having diplomatic relations with Ukraine.
"It's just distasteful, and it is, by the way, fueling the situation."
In December, European Union foreign policy chief Catherine Ashton and Guido Westerwelle, at the time Germany's foreign minister, visited the protesters. Although Lavrov made no direct mention of US involvement on Tuesday, US Assistant Secretary of State Victoria Nuland along with US senators Christopher Murphy and John McCain also visited the protest camp that month.
Lavrov criticized the protesters for "violence, attacks on police, arson, Molotov cocktails and explosive devices", characterizing their actions as a"complete violation of all European standards of behavior."
"I personally think that these calls for prudence, which the leaders of the opposition and Vitaly Klitschko in particular are now making, show that the situation is spinning out of control," Lavrov said.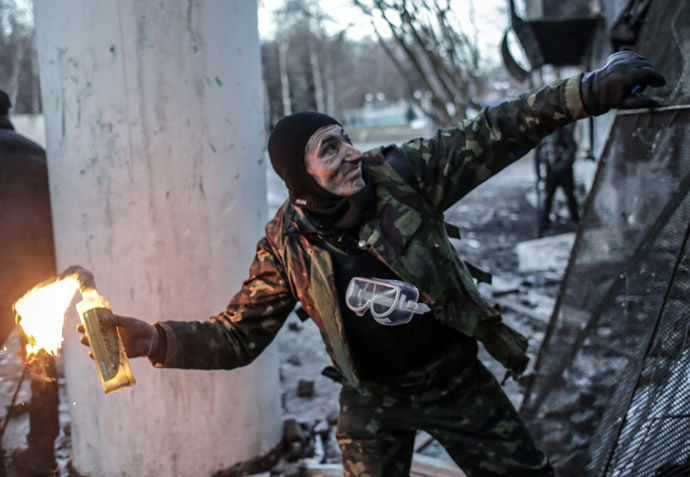 The Russian FM said, however, there was no immediate need for Russia to step in as a mediator, and no such request had been made thus far. Despite obvious differences of opinion, Russia is ready and willing to listen to their European partners during a EU-Russia summit slated for next week.
Lavrov noted that Brussels had so far failed to respond to a Russian initiative regarding a trilateral dialogue relating to the prospects for Ukraine's economic integration.
"Why hasn't the EU yes to offer an explanation? It will be interesting to hear what they have to say at the upcoming summit," he said.
The "Euromaidan" protests have consumed the Ukrainian capital Kiev for the past two months after the government of Ukrainian President Viktor Yanukovych decided to suspend preparations for signing an Association Agreement and Deep and Comprehensive Free Trade Agreement with the European Union."
Violence erupted on Sunday after the government introduced controversial laws curbing protests in the country and banning the wearing of helmets and gas masks at rallies. Thousands of protesters threw rocks and Molotov cocktails, setting police vehicles on fire. Police responded with stun grenades, teargas and even a water cannon, but were overwhelmed by the sheer numbers and were forced to take cover.
Yanukovych called for calm on Monday as the street battles continued, warning the violence threatend "not only Kiev but the whole of the Ukraine."
You can share this story on social media: