Duma demands foreign politicians stop inciting Ukrainian crisis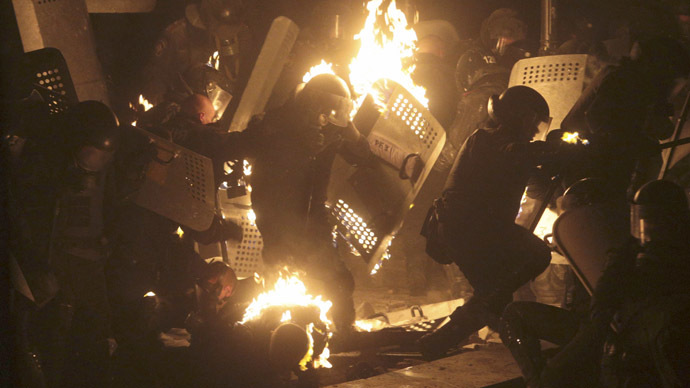 Russia's lower house has passed a unanimous statement that the ongoing aggravation of the political and social situation in Ukraine should be blamed not only on radical opposition, but also on certain foreign political circles.
The statement 'On aggravation of the situation in Ukraine', prepared by the parliamentary Committee for CIS Issues and Eurasian Integration, was passed unanimously on Wednesday morning.
The document blasted Ukrainian protesters, saying their actions were growing in scale and becoming more aggressive.
"In essence, there are attempts to forcefully overthrow the legitimate power institutes in the country," the Russian MPs stated.
The pro-opposition rioters are launching unsanctioned rallies, occupying and blocking various administrative buildings, and destroying historical monuments, including those erected in memory of the heroes who perished in WWII. Law enforcers who try to maintain order are attacked by organized groups of people using weapons and petrol bombs, the statement reads.
"It is regrettable that all these events are provoked and used by representatives of the political opposition who cynically call themselves supporters of democracy," it states.
The responsibility for the current crisis should be shared by the Western politicians, who rudely interfere with Ukraine's internal affairs and voice threats towards authorities at opposition rallies, the MPs claim.
"The State Duma again warns that the external pressure on Ukraine and artificially imposing the geopolitical choice of EU association are unacceptable," the statement reads.
In addition, the MPs stated that they highly approved of the agreements sealed by the Russian and Ukrainian presidents in December 2013 – the stabilization credit and the drop in natural gas prices offered by Russia, without any political conditions, in order to support the Ukrainian people.
The State Duma expressed readiness to boost the cooperation with the Ukrainian parliament – the Verkhovna Rada – in order to further develop the partnership between nations.
However, no moves aimed at overcoming the financial and economic crisis, at restoring and developing the national economy, would be effective in the conditions of growing civil standoff and systematic violations of the law, the Russian legislators stated.
The State Duma called for foreign political circles to stop violating the international law by interfering into Ukraine's domestic affairs. It also again addressed the Ukrainian political opposition with a call to abandon all forms of violence, immediately stop the violent standoff and start a constructive dialogue with the authorities.
You can share this story on social media: