A third of Russians think Cold War did not end with fall of Berlin Wall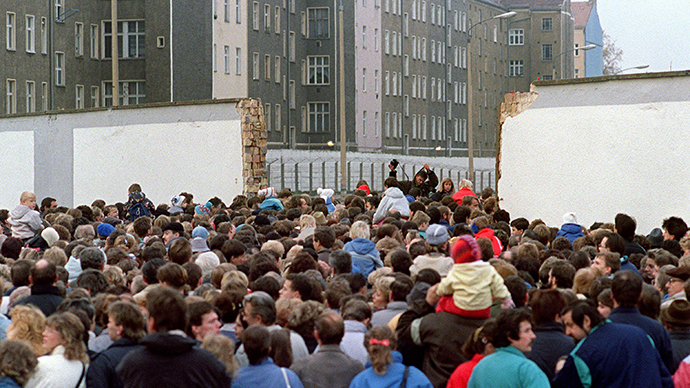 Most Russians agree with the collapse of the Berlin Wall and the end of the standoff between Russia and the West, but many think the Cold War did not end in 1989.
According to the poll conducted by the Public Opinion Foundation 82 percent of Russians are aware of the tearing down of the Berlin Wall, and only 13 percent know nothing of it. Fifty-one percent of those interviewed say the destruction of the wall was a good thing and 13 percent said that it was bad. Thirty-seven percent remain undecided about their attitude to the 1989 unification of Germany.
As it comes to the political consequences, 22 percent of Russians think the fall of the Berlin Wall did Russia more good than bad, 18 percent answered that negative consequences prevailed, and 60 percent could not answer the question.
When the pollsters asked if it was true that the fall of the Berlin Wall marked the end of the Cold War 39 percent of those responding agreed, and 33 percent disagreed. Again a large number of people – 28 percent could not specify their views on the situation.
An analyst from the Public Opinion Foundation, Grigory Kertman, said in comments to popular business daily Kommersant that in his opinion by answering the last question people were actually saying if they think that the Cold War has ended at all. He added that the current situation with the military conflict in Ukraine and increasing political and economic pressure on Russia from the West can give many people an impression that the Cold War had started again.
In a similar poll conducted in 2008, soon after the military conflict between Russia and Georgia as many as 52 percent of Russians said that in their view the Cold War was going on and only 18 percent answered that it had stopped.
The celebrations of the 25th anniversary of the fall of the Berlin Wall begin in Germany on Friday with a major forum dedicated to the event scheduled on Sunday. Ex-Soviet President Mikhail Gorbachev is expected to deliver a major speech on European and international politics on Friday and, according to a preliminary interview his take will not be optimistic.
"We wasted the chances that the end of the Cold War presented. It started so well, but some people didn't like it," RIA Novosti quoted Gorbachev as saying as he prepared to leave for Germany.