Nationalist pushes radical liberalization of home defense laws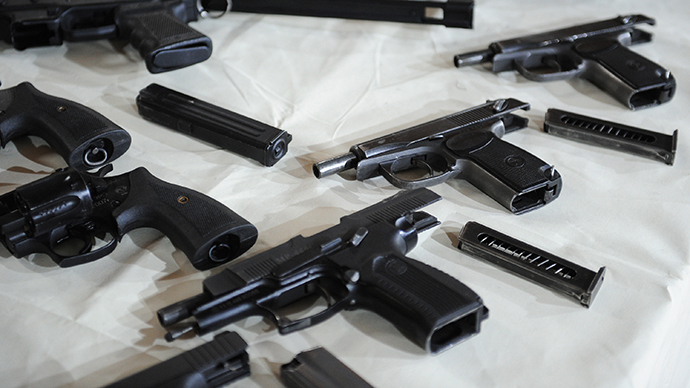 A deputy Lower House speaker has told the press he has prepared a bill allowing Russians to use firearms against criminals breaking into their homes without fear of prosecution.
Igor Lebedev of the populist nationalist caucus LDPR told the Izvestia daily about his plans to alter the laws defining the limits of self-defense so that Russian citizens could use firearms more freely to protect themselves, their families, and property. The lawmaker acknowledged that a very similar suggestion was put forward in 2012 and rejected by the government, but vowed to push it through this time.
"It would be right to introduce the 'my home is my fortress' concept into Russian law. When a citizen is using firearms against a bandit who has entered his residence this citizen should not be punished," Lebedev told reporters. He also said the LDPR party would publish the bill on a special website so that it can be scrutinized by the public before being officially submitted to the Lower House.
Current Russian law allows people to use firearms or other weapons in life threatening situations to themselves or others, but can be quite difficult to prove that the threat existed in court. In several cases people have been sentenced to prison terms after such incidents. Examples include the 2012 case in which a girl who fired a non-lethal rubber bullet at a man who stabbed her companion in the Moscow Metro – the shooter got three years in prison for grievous bodily harm and the assailant got away with a milder punishment.
In 2014 in the wake of several such stories the gun lobby NGO 'Right to Arms' prepared a petition entitled "My home is my fortress," suggesting that any resistance citizens offer to intruders inside their homes must be considered as necessary for self-defense. The document was put on the internet on the special site for legislative initiatives and it was the first to get over 100,000 signatures from supporters which made it a draft law that had to be considered by the parliament. However, the bill was almost at once turned down by the Interior and Justice ministries.
MP Aleksey Zhuraavlev, who supported the "Right to Arms" motion, linked the ministries' reaction to the fact that law enforcers feared that if the gun laws in the country become more liberal it would greatly increase the number of applications for gun licenses as well as add to routine work of ordinary policemen who check how the citizens store and maintain their weapons.
"The idea that Russians are some inferior kind of people who cannot use weapons correctly has been embedded in everyone's mind. This is nonsense. Once the people have firearms street crime and banditry would decline. Ordinary citizens in the USA kill twice as many criminals as the police. I think that the law enforcers oppose the idea because it would make them work more," Zhuravlev told Izvestia.
Gun rights groups estimate the number of civilian gun owners in Russia at about 5 million, and the number of registered firearms at about 6.4 million, including over 600,000 non-lethal guns modified to fire special rubber bullets. The overall Russian population is over 140 million according to the 2010 official census. Pro-gun advocates also claim that the number of crimes committed with officially registered firearms is extremely low – only 142 in 2012.
Russian law does not allow civilians to carry concealed firearms, but a long gun can be purchased solely for home protection.