Duma seeks more legislative bans in reply to Moscow school shooting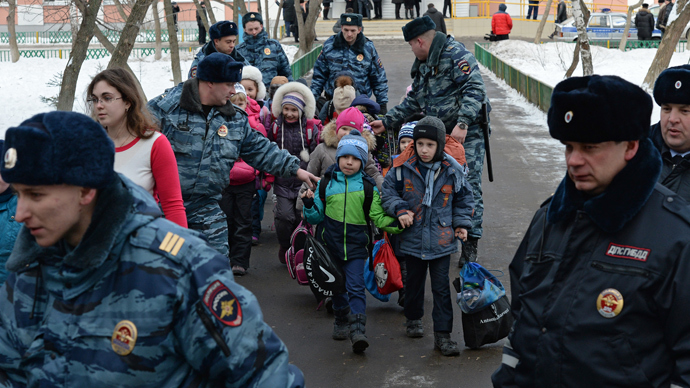 The MPs in the Duma suggested restrictions on products such as violent computer games and television programs, and also tougher punishment for careless storage of firearms.
The incident that prompted this almost unanimous reaction from Russian politicians happened on Monday, when a 16-year old pupil came to school armed with two of his father's hunting rifles. At gunpoint, the boy forced a security guard to let him in and then shot dead a teacher and a policeman who arrived in response to an alarm call. One more policeman was wounded. The shooter briefly held a classroom of children hostage before surrendering to police.
The boy is now in custody awaiting psychiatric assessment and trial. However, even before the initial shock had worn off, politicians from all sides started presenting their plans to prevent similar disasters from happening in the future. Some of the bills were new and others were attempts to introduce restrictions that had been rejected earlier.
The populist nationalist party LDPR proposed a ban on scenes of violence on television if such scenes involved minors (age of majority in Russia is 18). The two MPs who prepared the bill noted that "when teens commit crimes on the TV screen, it numbs children's ability to show compassion and provokes cruelty in them."
One of the sponsors, Yaroslav Nilov, said in an interview with Izvestia daily that research, carried out by psychoanalysts and criminal psychologists, showed that crime reports in the mass media could become a catalyst for new outbreaks of violence. "We want to limit television's potential for turning people into zombies, of getting them emotionally addicted to crimes committed by minors," Nilov noted.
The LDPR's bill in its original version imposes a complete ban on demonstrations of cruelty and physical and psychological violence, when portrayed by minors, from 7am till midnight.
MP Oleg Mikheyev of the center-left party, Fair Russia, has prepared and submitted a bill to the State Duma that would forbid those who are underage to purchase "shooter" computer games (and all "potentially hazardous computer programs") and even to frequent stores where such games are sold.
The motives and background of the Moscow school shooter have not yet been fully investigated, but mass media conjectured almost immediately after the shooting that the boy played violent computer games. Deputy Mikheyev backed his position with information about earlier tragedies. He said that both the office clerk who killed five of his co-workers in November 2012, and the man who attacked visitors to a Moscow synagogue with a knife in November 2011, were keen players of gory and violent computer games like Manhunt and Postal-2.
MP Irina Yarovaya of the majority party, United Russia, has urged lawmakers to tighten responsibility for careless storage of firearms, if such behavior leads to loss of human life. She presented an amendment to the criminal code that introduced criminal responsibility with punishment of up to 2 years in prison for negligent gun owners, whose weapons are used by killers.
The avid discussion of the problem has already led to a curious conflict. When a senior manager of the major Russian internet holding, Mail.ru, was speaking before parliamentarians at a roundtable on Tuesday he said "currently Russian children are playing a game distributed by a Cyprus offshore in which they use Nazi tanks to shoot at Soviet tanks." The statement (which was apparently about the extremely popular Belarus online project World of Tanks) was tweeted by other panel participants and ridiculed on social networks. As early as Wednesday, Mail.ru announced that they were severing the talkative marketing director's contract.
You can share this story on social media: