Russia holds record-breaking elections across the country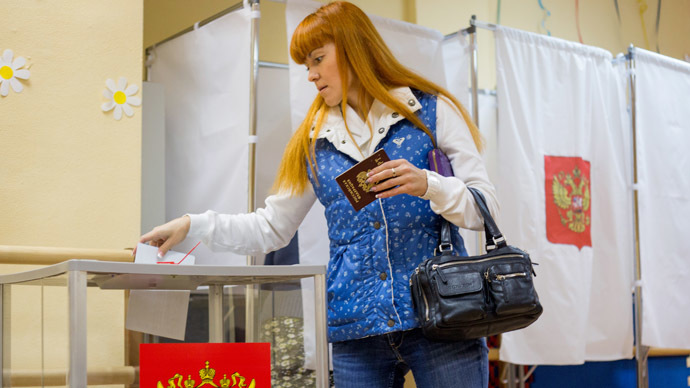 Local and regional election took place across Russia on Sunday as millions went to the polling stations to elect 30 governors, 14 regional parliaments, three mayors and thousands of municipal assemblies, including Moscow's City Duma.
A record number of 75 million eligible voters were registered this year for the single election day on Sunday, according to the election commission chairman Leonid Ivlev.

The elections at all levels were held in all Russian regions except in the republic of Ingushetia. Thirty Russian regions elected their heads and governors, 14 regions elected legislative assemblies, while three administrative centers of Russian regions elected their mayors.

For the first time the elections were held in Crimea and the city of Sevastopol, which joined Russia in March after the majority of Crimean residents voted to secede from Ukraine at a regional referendum. The regional election commission head said that 45 percent of registered voters at the peninsula had cast their ballots as of 6 pm local time (2 pm GMT).
In general the voter turnout was rather low. In Russia's capital Moscow the turnout was registered at some 18 percent by 6 pm local time (2 pm GMT). For the first time 45 MPs from eight political parties instead of the usual 35 members were elected to the Moscow City Duma.

However in some regions the turnout exceeded 50 percent. A high turnout was reported at the governor elections in Orel, Samara and Tyumen regions, and in elections of heads of the republics of Komi and Kalmykia. The highest turnout – over 60 percent - was registered at elections to legislative assemblies in the republics of Tyva, Tatarstan, Kabardino-Balkaria and Karachay-Cherkessia.

Preliminary results showed the dominance of the parties and candidates supporting the ruling United Russia party. Russian Prime Minister Dmitry Medvedev said he was content with the Sunday results.

"United Russia had shown a very good result," he said at videoconference at the party's headquarters in Moscow on Sunday. "I think the voter turnout demonstrated the interest for elections in the conditions of the current actual political competition."

The elections had been held in a "serious competitive landscape," he said adding that "in the current conditions, when the turnout is not very high, our party is capable of mobilizing the electorate," he stressed.
The country's Central Election Commission said it received no complaints during the All-Russian Election Day.

"Not a single complaint," Ivlev said on Sunday evening though adding that the commission had received 140 calls most of which had been questions. "As many as 41 calls reported possible violations in the activities of election commissions," he added.